Flat-Track Racing Is the Most Exciting Sport You've Never Heard Of
(Bloomberg Businessweek) -- The thing about flat-track racing is that you'll eventually get hurt flat-track racing. In April at the Texas Motor Speedway outside Fort Worth, I watch five riders crash on the same unrelenting turn, tumbling over one another like dominoes into a heap of cracked femurs, collarbones, and ankles.
Blame the dirt—or, technically, the "Texas gumbo clay." The sport's greatest challenge is to successfully slide a 300-pound bike around a 180-degree turn at more than 100 mph. Adding to the difficulty is the short, half-mile oval track, which is pretty much flat: There's no banked curve to help riders counter the centrifugal force that could send them flying into the air.
To get ahead, the really good riders will find split-second openings between all those skidding, dirt-spitting machines and dart through them. Winning isn't so much a question of speed, because the track is so small that most of the race is spent in the turns. It requires a combination of timing, balance, aggression, and the luck of a survivor.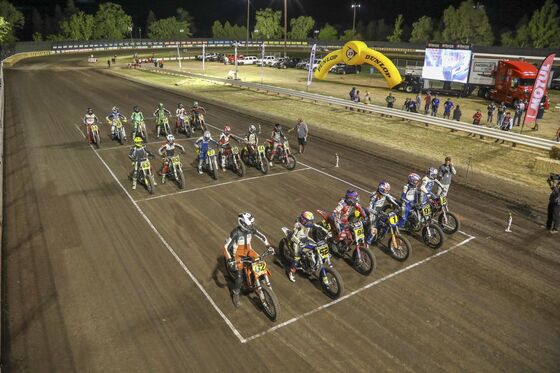 The only woman competing in the race with the big crash, Shayna Texter, escapes injury. Last year she won more singles races than anyone in the American Flat Track series, the sport's premier racing circuit, but she came in third for the season. The overall champion wins the crown based on points accumulated for placing in the top few spots. That day in April, I watch as Texter knifes through a sliver of space so briefly available that I honestly can't be sure she made any move at all. She continues to find these openings; by the end of the race, she's meticulously worked her way to the front of the pack. She comes in second in the 15-lap run but posts the fastest single lap time: just under 21 seconds.
"Nerve." That's the one word Gary Nelson uses when I ask what makes Texter special. A legendary Nascar crew chief—he spearheaded Bobby Allison's Winston Cup championship in 1983—Nelson is one of Texter's closest advisers. "She will find a way to get in front, and everyone else in the race just watches while she does it," he says.
Texter began racing seriously in 2003, when she was 13. She went pro in 2008 and won the first race she entered. Her particular specialty seems to be maintaining a deadpan focus in haywire situations. Once, in 2015, she took out her own boyfriend, Briar Bauman, when his handlebars clipped her boot as they leaned into a turn, causing an immediate tangle of arms, legs, and metal. She walked away; he was lucky to escape with only a concussion.
"One time when I broke my foot, my dad cut off my cast for a race because it wouldn't fit in my boot, and then we wired it back together afterward," she says, laughing. "That's just racing."
Flat track emerged in the years after World War II, when riders on all types of motorcycles raced around oval dirt tracks in back lots, farmers' fields, or the desert. Many bikes didn't have brakes, so competitors would use "power slides"—scooting sideways across the dirt, wheels locked in place—to steer around corners. A professional flat-track series called the AMA Grand National Championship began in 1954. In the '60s and '70s the sport flourished, boosted by the participation of Steve McQueen and Paul Newman.
In the following decades, flat-track racing slowly declined as sport bikes and 200 mph MotoGP competitions became prevalent. (MotoGP is a circuit of paved-track races featuring hypermotorcycles so technical and calibrated you almost need a Ph.D.—and a death wish—to operate them.) Flashy machines from Ducati, Yamaha, and Suzuki, among others, stayed popular for years.
It took the 2008 financial crisis to create an opportunity for dirt-track racing to rebound, says Michael Lock, American Flat Track's chief executive officer and previously the CEO of Ducati North America Inc. As household budgets tightened, five-figure sport bikes seemed extravagant. Many were sold to free up cash and get out from under monthly payments. People found cheaper options in old dirt bikes and cafe racers tucked away in barns or buried in Dad's garage. "Flat track is accessible," says Christopher Fillmore, the world record holder of the Pikes Peak International Hill Climb, who's also advising motorcycle maker KTM AG about getting involved in the sport. "Anyone can ride around a dirt track and have fun."
Even now most of the races are local affairs: ad hoc, rowdy, and easy to join. But some crystallization is occurring. In 2016, after decades of ownership changes, Grand National Championship, which operates the race schedule, changed its name to American Flat Track to better market itself.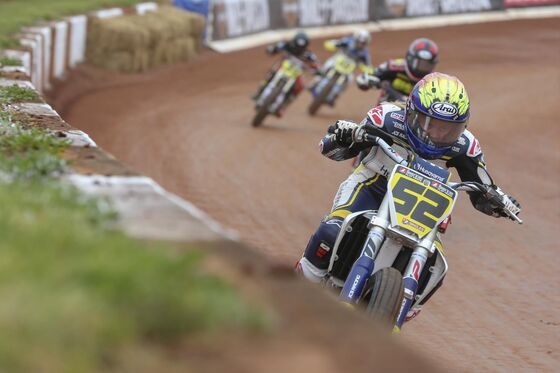 Lock compares the league to what UFC was 10 years ago, when it was emerging from a more local, fervent base and expanding fast. He points to enthusiasm among bikers who want to jump in. AFT has signed more brand-sponsored riders this year than at any time in the past 20 years. "It's a crazy sport," he says. "It's not about having the best bike or the most horsepower. It's about skill." Says Texter: "It's this secret sport that we have all loved forever that is finally coming together."
Before her race in April, the reserved 27-year-old sat with me in her racing paddock in the track's parking lot, killing time before her bike—a stockHusqvarna FC 450 dirt bike with knobby tires—was weighed and checked. She told me about how her late father was a two-time AMA US Twins Sports motorcycle racing champion and a successful AMA Flat Track racer. (Flat track is divided into single and twin categories—named for the number of cylinders in a bike's engine.) Texter's older brother, Cory, is an amateur national champion and winner in the AMA Expert Twins and All-Star series.
She grew up in Willow Street, Pa., hoping to play soccer. "I wanted to be the next Mia Hamm," Texter says. But in 2003 when she was in ninth grade, a foot injury led her back to the family sport she'd been watching since she was 4. She advanced to competing professionally at age 17, and now she travels half the year with her team, her boyfriend, and sometimes family members to races in Calistoga, Calif., Daytona Beach, Fla., or Sturgis, S.D. They live and work out of RVs, vans, and roadside motels. In the offseason she goes deer hunting with family and friends—and cooks, sometimes. Venison rice bowls are a specialty.
It's not a flashy lifestyle, she says, but the sport is lucrative enough for now. Texter just bought her first house on 5 acres in the Pennsylvania woods. And she's in position to finish on the podium for the 2018 season. She's ranked fifth and plans to unseat 22-year-old Dan Bromley and 18-year-old Brandon Price, the front-runners in her division. The league hands out $250,000 in purse money over the course of the year.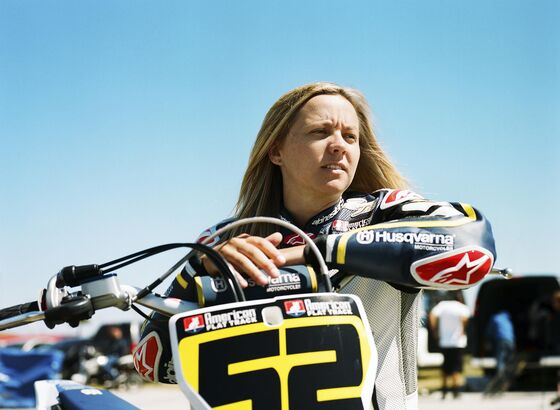 A decade ago the sport needed hype. Now it's growing robustly: Ticket sales in 2017 for AFT races across the country (usually about $40 for general admission) rose 76 percent, to $4 million, from 2016, with broadcasts on NBCSN reaching 1.8 million viewers for the season. A quarter-million people watch livestreams throughout the year on Fanschoice.tv. AFT has doubled its number of sponsorships in the past year, signing Harley-Davidson, Indian Motorcycle, Dainese, and Oakley.
Still, the motorcycle industry shrugs a bit when it comes to flat-track racing and its fledgling audience. At the Texas Motor Speedway, ticket sales were double what they were the year before—but the 5,000 people filled only the front rows of the 11,000-seat stadium. (The main Motor Speedway arena across the road, where IndyCar and Nascar race, seats 181,655.)
AFT isn't the only way to flat-track race. Roland Sands, a former pro motorcycle racer, and a rag-tag group of associates have held off-grid flat-track races for years that attract younger versions of the tattooed, motorcycle-club types in attendance in Texas.
Bigger companies are sniffing around the sport, too. Motorcycle maker Husqvarna, a relative newcomer to the AFT Singles series, supports Texter's season with bikes and sponsorship money, partly to promote the cafe-racer-style bikes it brought out this year. The sport gives Husqvarna an opportunity to expand, says Jenna Parker, its marketing manager. "We had been keeping our eye on Shayna because she just seemed to be a really humble person—but she also crushes it. She's not going around saying she's a girl who races. She's just a racer."
Texter's detractors argue that her 5-foot frame is an advantage. But her inability to use a wide arm span to counterbalance the weight of the bike around turns the way her rivals do—or put her feet to the ground—outweighs any marginal gain.
If it were up to Texter, she wouldn't be singled out for being a woman at all. "I don't want to be Danica Patrick," she says, referring to the famous IndyCar driver. "I am not into being a poster child."
To contact the editor responsible for this story: James Gaddy at jgaddy@bloomberg.net, Chris Rovzar