Trump's Indonesian Partner Thought This Would Be More Fun
(Bloomberg Businessweek) -- Like a certain number of tycoons, including the one whose association he has most eagerly sought, Hary Tanoesoedibjo has lined his office with pictures, paintings, and cartoons of himself. On one side of the room, on a high floor of his tower in downtown Jakarta, a television blares one of the news channels he owns. Across the way, on a bookshelf, is a Make America Great Again cap signed by that other tycoon, U.S. President Donald Trump. Between a pair of brown leather chairs is a wooden table displaying a single photo—almost like a shrine—of Tanoesoedibjo with his wife, Liliana, and Trump, who signed it with the note, "Hary — You are my great friend. Thanks for your support. I'll not forget — Best Wishes, Donald."
The photo was taken in New York in August 2015 after the two men clinched a deal to redevelop a resort in Bali; it will be Trump's first hotel in Asia. The following month, they announced a second deal to develop a Trump-branded luxury resort in West Java. Hary, as he's called locally, promised to spend as much as $1 billion on the two resorts and paid Trump as much as $10.5 million in fees between 2015 and 2017. It's one of the Trump Organization's most lucrative overseas partnerships.
Hary, 52, has called Trump an inspiration, and soon after the U.S. election began talking about running for president of Indonesia. He has bragged about his access to the U.S. president. He and Liliana attended the inauguration in January 2017, and posted pictures of themselves alongside Don Jr., Eric Trump, and their wives at an after-party. He Instagrammed his stay at the Trump International Hotel in Washington, D.C.
All this makes it remarkable that Hary has been showing more restraint, declining to be drawn out on his relationship with the U.S. president and denying that someone has told him to shut up about it. "Too sensitive," he says. "Any statement can be interpreted two ways, negatively or positively."
He chuckles as he dodges questions about the similarities between himself and Trump. They both love Twitter, but Hary, with his 1 million followers (Trump has 52 million), is a controlled and polite tweeter, staying on message as a self-made man encouraging his compatriots to work hard toward building a stronger Indonesia. Like Trump, Hary has used piles of debt to put together his fortune, but he's done it with few advantages, building a media and property empire from the roughly $30,000 his father gave him in the late 1980s. He says he now employs 36,000 people through a web of about 100 interlocking companies under the MNC Group.
Trump had a TV show, but Hary owns a powerful media business: four TV stations that broadcast news, drama, and reality shows—including the Indonesian versions of Idol, X Factor, and MasterChef—a cable and broadband business, a streaming service, and a newspaper. Hary's media dominance has made him a political force in a country of 260 million people, the world's fourth-largest country by population and largest Muslim-majority nation. While roughly a quarter of Indonesians live without electricity and may be out of his reach, Hary's media holdings would be a bit like one person in the U.S. owning CBS, ABC, and NBC.
Also like Trump: Hary is sometimes accused of not paying his bills. In 2014, BluTether Ltd., a Virginia-based engineering company, signed a contract with MNC Sky Vision, Hary's satellite pay-TV business, to provide Bluetooth modules for 3 million set-top boxes. BluTether's CEO, George Gonzalez, was concerned that legal protections for an American business might be weak in Indonesia, so he had the contract drawn up in Singapore.
That seemed like a good call when MNC Sky refused to pay for the equipment. Hary says it was never delivered; Gonzalez says MNC Sky refused to accept delivery. Gonzalez filed in Singapore to begin arbitration, whereupon Hary used MNC Sky's parent company, Global Mediacom, to successfully sue both BluTether and MNC Sky—his own company—in a Jakarta court, saying the contract should be voided because it wasn't in Indonesian. Singapore's arbitration tribunal ordered MNC Sky to pay BluTether $17 million for breach of contract, an order later ratified by the country's High Court. Hary appears to have ignored the Singapore order, focusing instead on the Jakarta ruling.
"I think his Trump connection gives him perceived protection," says Gonzalez, himself a Trump supporter. "Look at the optics: Hary came to the inaugural ball. There's Hary and his wife sitting with Eric." Earlier this year Gonzalez raised his case with Luhut Pandjaitan, one of President Joko "Jokowi" Widodo's most powerful appointees. He says the minister's response was laughter, followed by: "Hary pulled that trick on you? Oh yes, Hary does this all the time." Pandjaitan declined to comment for this story.
Hary's political moves have sometimes been less successful. After running as the vice presidential candidate on a failed ticket in 2014, he was able to use his money and media power to set up a new political party, called Perindo, and painstakingly build chapters in 80,000 villages across Indonesia—a genuine feat in a country spread across 17,500 islands (or 18,307, depending on who's counting). This is all the more remarkable because Hary is a Chinese Christian, a minority in Indonesia that has historically steered clear of politics despite controlling a large number of the country's businesses.
Last year, amid his talk of running for president and his public backing of Jokowi's opponents, Hary was engulfed by a series of scandals, including alleged tax fraud at a company he once owned and accusations he'd sent threatening text messages to a prosecutor. He denied the allegations, calling them "nonsense" and saying he was only a witness in the cases, but they were serious enough to get him barred from traveling for a few months last summer. When he threw his support behind Jokowi's bid for reelection in 2019, the allegations went away. Johan Budi, a spokesman for the president, told Bloomberg: "Hary Tanoe's support for the president is purely a personal decision and has nothing to do with the case that he was facing with the attorney general's office." Hary denies politics was involved. Sitting in his office, he sounds very much like a man who's decided to fall in line. "Politics is dynamic," he says. "Jokowi has managed things very well."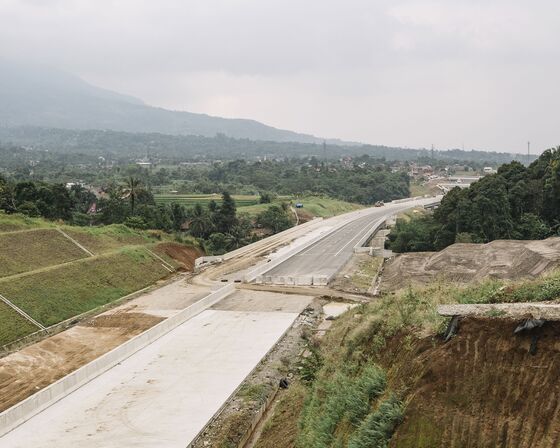 From the traffic-clogged streets of Jakarta, it's a death-defying two-hour drive south to the future Trump resort in Lido in the mountainous tropical forests of West Java. The highway quickly turns into a narrow two-lane—unofficially three-lane—road filled with motorbikes and trucks crawling by mosques, tin-roofed shacks, and roadside kiosks selling bananas, avocados, and coconuts.
Hary's plans for Lido span more than 7,000 acres sandwiched between two volcanoes. The Trump enterprise will occupy about a quarter of the property. To say it looks like an unlikely place to plop a six-star hotel bearing the name of the U.S. president is an understatement.
Small farmers tend plots of corn and cocoa across from the soon-to-be-completed Trump golf course. The ground has been broken for the Trump clubhouse; the Trump hotel, 258 Trump villas, and 180 Trump condos will be built nearby. In addition to the Trump resort, Hary is developing several additional hotels, a concert venue that can accommodate 100,000 people, and what he calls Movie Land—a production facility for film and television studios. He's also building a theme park that he says will be twice as big as Universal Studios in Singapore. At least part of it will be a waterpark based on the ancient Hindu legend about a turtle who carried a volcano on his back through the ocean to Java.
Trump hasn't visited Indonesia, but he met Jokowi on the sidelines of a Group of 20 summit last July and promised to come. The announcement in December, however, that the U.S. would recognize Jerusalem as the capital of Israel put Indonesia on edge. Thousands of protesters demonstrated, and the crowds returned in May ahead of the opening of the U.S. Embassy in Jerusalem. Some politicians now worry that a Trump visit to Indonesia could be explosive. "It's becoming a political liability to have closer relations with Trump," says Dino Djalal, the former Indonesian ambassador to the U.S. "What if Trump comes and he has 100,000 protesters on the streets? The Islamist opposition would likely organize it."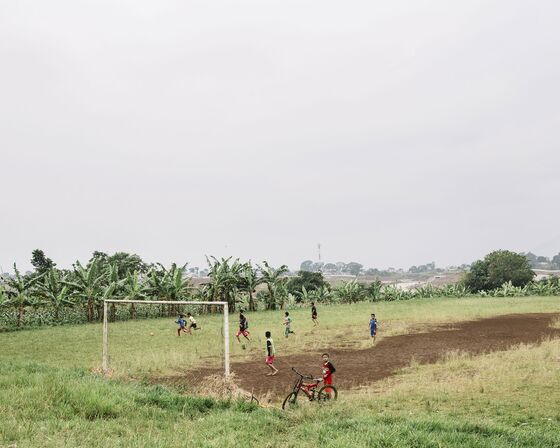 Hary deflects questions about whether all the controversy swirling around Trump could hurt the attractiveness of the resorts. "Let's wait till it opens," he says, laughing. It's possible the effect will be different at different venues. The Java development is aimed mostly at Indonesians, who may be turned off by the Trump name. The Bali resort will be pitched at high-end travelers from around the region, who may still see the Trump brand as offering a veneer of prestige. "Asians are brand-crazy," says Joe Polito, vice president of Los Angeles-based Legends Hospitality, who spent two years overseeing the Bali resort that Hary and Trump are redoing. "The Trump brand in California isn't strong, but in Asia it would be a positive thing."
As is the case with most of its overseas business, the Trump Organization doesn't own any property in Indonesia but collects fees. Hary's MNC Land Tbk PT pays royalties to use the brand—$3 million according to its last annual report—and the Trump Organization gets a fee to manage the hotels and golf courses and a cut of the Trump-branded villas and condos. He says both resorts should be finished by 2020, an ambitious timetable.
Hary's property investments were relatively small until 2013, when he started buying the resorts and some surrounding parcels of land in West Java and Bali for several hundred million dollars. In 2014, Hary announced grand plans for both sites and asked his management team to compile a list of luxury hotel companies he could partner with. After signing a letter of intent with Trump hotels in March 2015, Hary traveled to New York that August for meetings with Ivanka, Eric, Don Jr., and the future president himself to finalize the Bali deal. At this point, Trump was three months into his electoral campaign but was running his business as usual, striking deals with politically connected billionaires around the globe, including signing a letter of intent to build a Trump tower in Moscow.
That fall, Trump announced his second deal with Hary, for the resort in West Java. Last year, Fadli Zon, a deputy speaker of Indonesia's parliament, told the Australian Broadcasting Corp. that Trump had made it clear to him that the Java resort was impossible without a new toll road. Zon says he neither intervened nor offered to help with a road—but he won't mind stepping in if there are problems important enough to be reported to parliament. "Then we can get involved," he says.
Hary, a man who loves attention, has recently gotten too much of the uncomfortable kind, as critics probe the involvement of state-owned companies in the Lido project. It could be a problem for him because it's a potential problem for his partner; critics say Hary's ties to Chinese state-owned companies could place the president in violation of the emoluments clause of the U.S. Constitution. Government officials are barred under it from accepting gifts or payments of any kind from foreign governments.
Press reports in early May centered on $500 million in expected loans from a Chinese state-owned institution. This was particularly piquant because of Trump's unexpected announcement on May 13, via Twitter, that he was working with Chinese President Xi Jinping to give the Chinese phone maker ZTE Corp., which has been cut off from U.S. suppliers for violating sanctions against trading with Iran and North Korea, "a way to get back into business, fast." That produced accusations that Trump had engaged in a quid pro quo with Xi.
MNC Land denied that it had accepted such a loan. Hary has acknowledged, however, that in June 2016 his company signed an agreement with state-owned Metallurgical Corporation China Ltd. (MCC) to do construction on the theme park at the Lido resort. At the same time, MNC signed a letter of interest with the state-funded Chinese Export and Credit Insurance Corp., known as Sinosure, "which began the process of project financing from China," MNC said in its 2016 annual report. An MNC executive told local media at the time that Sinosure would provide $425 million in credit guarantees for the resort.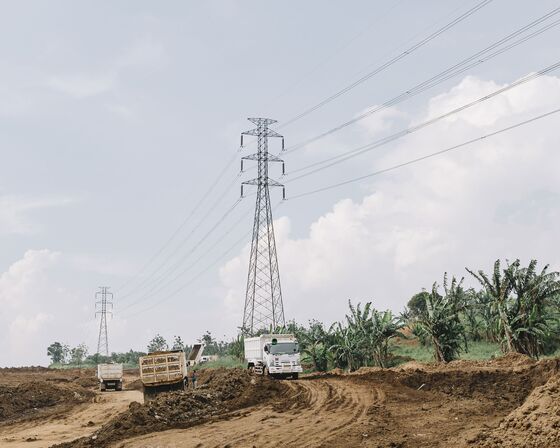 When asked in late March about MCC and Sinosure's $425 million in financing, Hary said it was only for the theme park, not for the Trump resort. He declined to say who was financing the Trump part of the project. In a follow-up text in May, Hary said Sinosure signed only a letter of intent and declined to comment on whether he'd followed through on the financing. The involvement of Chinese state-owned companies is important because plans for the development indicate that the theme park and the Trump resort share a common road and some infrastructure.
It's not just China. Last year MNC hired the Indonesian subsidiary of Posco Engineering & Construction Ltd., an affiliate of Posco, which is partly owned by the governments of South Korea and Saudi Arabia, for the first phase of construction in Lido. As for the toll road that Trump reportedly said was essential, it's scheduled to be completed by the end of the year. Indonesia's state-owned construction firm, Waskita Karya Persero Tbk PT, is pumping millions of dollars into it after taking over the project from Hary. The road will cut the time it takes to drive from Jakarta to the resort in half, and Hary says it will make his land there 20 times more valuable. That sounds like a Trumpian exaggeration, but he may not be far off. Sinosure, Posco, MCC, and the Trump Organization didn't respond to requests for comment.
As with the West Java project, Hary won't say who's financing his Bali resort, 700 miles to the east. The site is a cliff overlooking Tanah Lot, a 16th century Hindu temple perched on a rock in the Indian Ocean. When Hary bought the place in 2013, it had a five-star hotel and a championship golf course surrounded by picturesque rice fields. After linking up with Trump, he brought in Miami-based Oppenheim Architecture & Design to revamp the hotel.
Instead of renovating it, Hary and Trump demolished it at the end of last year in order to build an even more luxurious hotel on a clean slate. Today the site is a massive mound of earth occupied by diggers and dump trucks. Hary won't say who has the construction contract. Far from acting like a hands-off licensee, the Trump Organization is overseeing the redesign. Meanwhile, Hary has been quietly buying up land from local rice farmers to expand the golf course. Local property agents estimate that if he gets Balinese government officials to rezone the property for commercial use, the land's value will jump by 600 percent.
The new resort will be far from the Eat, Pray, Love brand of tourism that has fueled Bali's rapid development, giving rise to yoga studios and restaurants offering gluten-free pasta on every corner. Last year local officials were worried that the Trump International Hotel and Tower Bali, as it was to be called, would end up overshadowing the Tanah Lot temple—it was, after all, being called a tower. Hary now says it won't be a tower and promises to adhere to the sacrosanct Bali rule that buildings cannot be higher than the height of a coconut tree, a somewhat inexact directive. He recently released a digital image that shows a low-slung modern hotel spread out across a hill with pools arranged like terraced rice fields. Polito, the former manager of the now-demolished Bali hotel, estimates it could cost as much as $200 million to build the resort, not including the golf-course redesign or the 144 Trump villas and 224 Trump condos.
For now, Hary is focusing on positioning his business for his children to eventually take over, keeping his eye on a future political career in much the same way Trump did for years before he finally ran for office. He's young; there's time. "I need to create a legacy," Hary says. "I will get my time in politics, someday, full-time."
To contact the editor responsible for this story: Daniel Ferrara at dferrara5@bloomberg.net