Air France Finally Has the Go-Ahead to Fix Itself or Fail
(Bloomberg Businessweek) -- Founded almost a century ago as a mail carrier to France's far-flung colonies, Air France has long been an avatar of the country's glamorous image. It has ferried diplomats and dealmakers to Paris and Hollywood starlets to the festivals in Cannes. In the 1960s it clad cabin crew in Dior. In the '70s it introduced the Concorde, which linked Paris and New York in less than four hours.
Today the glamour is mostly gone, and Air France—suffering from toxic labor relations, bloated operating costs, and strategic blunders—is more representative of the country's woes. Jean-Marc Janaillac, chief executive officer of Air France-KLM, the company forged from the 2004 merger of the French and Dutch flagship airlines, on May 4 said he would quit. He has faced a bitter strike that has cost the carrier more than €400 million ($480 million) since February, helping drive shares down by almost half this year. The company on May 15 cobbled together a stopgap management team, with board member Anne-Marie Couderc to serve as interim nonexecutive chairman and Chief Financial Officer Frédéric Gagey as interim CEO, the third person to lead the business in less than two years.
The French government—the company's biggest shareholder, at 14 percent—says it has no plans to bail the carrier out and that Air France "could disappear" if it doesn't sharpen its competitive edge. With hundreds of flights canceled in the runup to the crucial summer travel season, "you may see a vicious spiral" as passengers scared by strike threats defect to other carriers, says Chris Tarry, a British aviation consultant.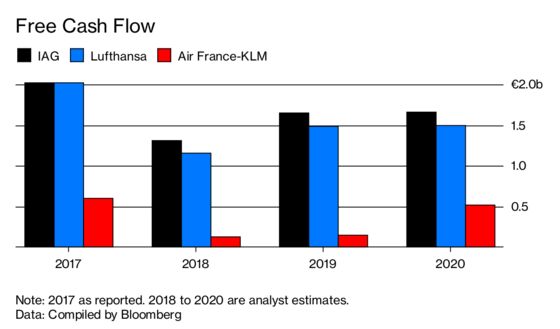 Air France-KLM lags behind its major European rivals by just about every financial measure, from productivity to profit. Although it's the region's largest carrier by passenger-miles, it generates less than one-third the cash flow of Deutsche Lufthansa AG and International Airlines Group (IAG), the owner of British Airways, Spain's Iberia, and Ireland's Aer Lingus. The numbers would be even worse if not for KLM. Air France lost €178 million in the first quarter; KLM—with two-thirds the revenue of its partner—saw profit almost double to €60 million.
While its competitors have endured plenty of strikes, recently they've forged a cautious peace with unions. Air France, by contrast, seems locked in perpetual conflict as management has failed to convince employees that the carrier must cut costs in response to the growing strength of discounters such as Ryanair Holdings Plc and EasyJet Plc. In 2015 workers protesting planned job cuts stormed the company's headquarters near Charles de Gaulle Airport, cornering two managers and ripping off their shirts as the men jumped a fence to escape. In the latest showdown, former CEO Janaillac offered a 7 percent wage increase over four years, while unions demanded an immediate 5.1 percent raise. Janaillac put his proposal to a vote of workers. When 55 percent said no, he said he'd step down.

At the company's annual shareholder meeting on May 15, the new leadership offered no details about its strategy. Management decisions will be "taken collectively" by an executive committee including Gagey and the chiefs of the Dutch and French operating units, the company said in a statement, though there's no timeline for reopening negotiations with unions. With the new executives appointed only on an interim basis, "this is not a long-term solution," Sanford C. Bernstein analyst Daniel Röska said in a note to clients. Whoever takes over permanently will face challenges "from competitive threats in key markets, an emboldened union in France, and the lack of a coherent long-term strategy," he wrote.
Air France-KLM has struggled to match the success of Lufthansa and IAG in developing low-cost subsidiaries to supplement its full-service offerings. It has a small discount arm, Transavia, but scrapped efforts to expand it internationally in 2015 after pilots walked out over expected lower pay for employees outside France. Then last year it launched Joon, a no-frills carrier with millennial-friendly extras such as craft beer and virtual-reality headsets. While that fits the company's French-chic image, the two units create "operational and brand confusion," says Andrew Lobbenberg, an analyst at HSBC Bank Plc. Instead, "the group needs an independent, unified low-cost carrier," similar to Lufthansa's Eurowings or IAG's Vueling.
And while Lufthansa has expanded its cargo, catering, and maintenance units—which provide steady cash to offset fluctuations in passenger traffic—Air France-KLM has trimmed cargo capacity and sold some of its catering operations. Such missteps explain why the company lags behind its competitors, says Beltran Ybarra, a representative of Air France's main pilots union, SNPL. "It's strategic choices that are in question, not people," he says.
The company urgently needs to cut costs, integrate the separately run Air France and KLM units, and develop a strategy to defend its Paris hub, where it's under increasing attack from low-cost rivals. The scary alternative is that Air France could "head in the direction of Alitalia," the Italian carrier that—even with massive government support—floundered for decades before sliding into bankruptcy last year, says Jos Versteeg, an analyst at InsingerGilissen Bankiers N.V. in Amsterdam.
Economy Minister Bruno Le Maire has vowed to oppose any push to get the government to shore up the airline. In a May 6 television interview, he called the pilots' wage demands "excessive" and said Air France will have to sort out its problems on its own. "The state is not here to come to the rescue of enterprises that don't do what's necessary to remain competitive," Le Maire said.
Holding firm against the unions would dovetail with President Emmanuel Macron's efforts to reinvigorate the economy. He has revamped labor laws to make it easier to fire workers and is pushing to overhaul the state-controlled railways, triggering repeated strikes by employees. "France's government could make Air France a laboratory for social reforms and labor flexibility," says Yan Derocles, an analyst at Oddo Securities in Paris. Without dramatic change, the company "risks shrinking and not being able to compete."