'Privatization' Is No Longer a Dirty Word in Brazil, Even in an Election Year
(Bloomberg Businessweek) -- In one of the most iconic photo moments of his presidency, Luiz Inácio Lula da Silva waves a pair of hands slicked with crude oil from a petroleum platform operated by Brazil's government-run oil company, Petrobras. The country's state-heavy economy was roaring, buoyed by the global commodity boom, prompting Lula to later declare, "God is Brazilian." Twelve years later, Lula is in jail, Petrobras is reeling from a massive corruption scandal, and Brazil's era of undisputed resource nationalism has reached an ignominious end. As presidential elections in October approach, the long-unthinkable is now being openly debated: Should public assets be sold off?
"I'd sell all the state companies," billionaire and presidential hopeful Flávio Rocha proclaimed recently. Alvaro Dias, a centrist running for the Podemos party, has proposed a "radical downsizing" of the state. These politicians are banking that anger over corruption, the worst recession on record, and empty public coffers can help bring about a change in voters' attitudes toward privatization. It's a risky bet, given a recent survey showing that 7 out of 10 Brazilians oppose the idea, led by the poorer and less-educated. "Turning toward the private sector is less a question of ideology than it is of mathematics—the state is bankrupt," says Marco Troyjo, a Brazilian-born professor of international and public affairs at Columbia University in New York. "It's an historic debate. In all its history, the state always dominated economic activity in Brazil."
Brazilians pay the equivalent of nearly one-third of gross domestic product in taxes, one of the highest shares in the world. Besides the myriad state and federal levies, businesses also complain of excessive red tape and regulation, which they say discourage entrepreneurialism. The country ranks 153rd out of 180 nations in the anti-tax Heritage Foundation's Index of Economic Freedom, compared with France, ranking 71st, and Mexico, in 63rd place.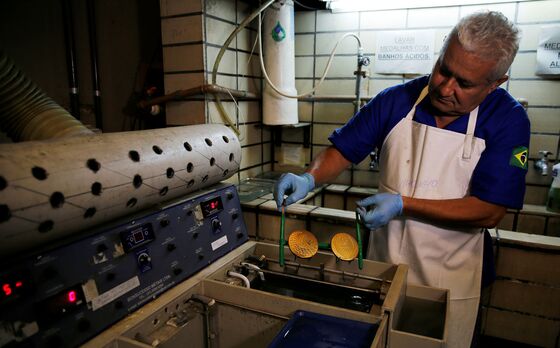 Geraldo Alckmin, who's running for president for the second time, exemplifies the change in mindset. In 2006 he campaigned wearing a vest and a cap festooned with state-company logos to rebut claims he was a "privatizer." Alckmin, who in April stepped down as governor of São Paulo—the country's richest and most industrialized state—so he could join the presidential race, has promised to sell the government's controlling stake in Petrobras. The company had an overall stock market value of more than $87 billion as of May 7.
Jair Bolsonaro, a former army captain who's the front-runner in opinion polls among eligible presidential hopefuls, broadly supports selling state assets, though he also champions restrictions on foreign ownership of farmland and mineral deposits. "We shouldn't opt for privatization in all cases," he said in March.
This wouldn't be the first time Brazil has put state assets on the auction block. In the 1990s the federal and state governments sold scores of businesses, including the telephone monopoly and mining and steel companies. The sales allowed the enterprises to draw much needed financing, technology, and managerial know-how that improved operations and production—often to the benefit of Brazilian consumers. Even so, left-of-center politicians complained of sweetheart deals benefiting political cronies or foreign investors.
"The stigma from that earlier experiment with privatization is gone," says Rodrigo Garcia, a congressman with DEM, a right-of-center party that's fielding a presidential candidate for the first time in almost two decades. Referring to two large, state-owned banks, he says: "Today you can say you want to sell Banco do Brasil or Caixa Econômica or merge them. You can explain this to society easily."
The federal mint and Congonhas Airport in São Paulo are among the state-owned assets being considered for sale. The planned June 14 auction of a management concession for the Lotex scratch card lottery has generated interest from several industry giants, including International Game Technology, Scientific Games, and Intralot, the finance ministry says.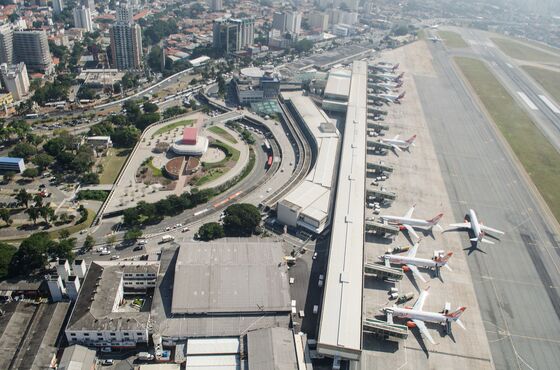 Henrique Meirelles, who stepped down as finance minister in April to explore a presidential bid, says Brazilians are seeing improvements in daily life that are helping build acceptance of a larger role for the private sector. As an example, he points to the quality of the country's roads, whose maintenance is increasingly being contracted out to companies. "Concessions in infrastructure are increasingly accepted," Meirelles says during an interview at his Brasília residence. "The guy who travels on a road that was privatized—that perception exists."
While that attitude is taking hold among the middle and upper classes, it's unclear to what extent Brazil's crisis-battered working and lower classes buy into this more liberal economic agenda. "It won't reduce corruption," says Maria Madalena, an office assistant in Brasília, when asked if she supports privatization proposals. "What it'll do is leave even more people unemployed."
Ciro Gomes, the candidate who hopes to become the standard-bearer of the Left now that Lula is in jail, is trying to capitalize on such sentiments. Confident that Brazilians still believe in a strong state, Gomes proposes to expropriate recently tendered oil fields and do away with spending caps designed to limit the size of government.
Among legislators, support for divesting state assets has also been lukewarm—not surprising, considering that politicians often reward supporters with jobs at state-owned companies. A proposal to privatize power utility Eletrobras, which could fetch an estimated 12 billion reals ($3.4 billion), has been stuck in Congress for almost four months.
Francisco de Assis Lira, a doorman in an office building in Brasília, supports privatization as a means to reduce corruption. "State companies don't work," he says. "They're poorly run. Appointments are political, not technical."
Any plans for auctions that do move forward will face real challenges, including prepping battered companies for sale and beefing up the regulatory environment to prevent onetime public monopolies from becoming private ones. Despite such obstacles, Renato Nobile, chief executive officer of BullMark Financial Group, is encouraged that presidential candidates are willing to discuss what was once a taboo topic. "With one or two exceptions, there are no disaster candidates in terms of economic policy," says Nobile. "Independent of who wins, there's a bigger chance of getting a pro-market candidate than in previous elections." —With Gabriel Shinohara and Samy Adghirni