Unable to Win Beijing's Approval, Fortnite Gives Up on China
(Bloomberg Businessweek) -- Epic Games Inc. spent 2018 preparing Fortnite, the world's hottest video game, for a blockbuster debut in China, the world's biggest gaming market. When the company released the multiplayer shooter a year earlier, it had already brought in more than $1 billion worldwide. Chinese tech giant Tencent Holdings Ltd., an Epic investor and Fortnite's local publisher, sought to replicate the success in its home country. Things started off on an optimistic note, with 10 million Chinese gamers pre-registering that summer to get access to the game. But it never fully launched in China, and on Nov. 15, Epic will shut down Fortnite's servers in the country, concluding a three-year trial from which it never made a dime.
New video games need government approvals to premiere and sell copies or virtual items in China, and the licensing process is increasingly stringent and often unpredictable. This year has been particularly difficult—the government hasn't authorized a new gaming release in more than 100 days.
The freeze comes at a time when Beijing has said it wants to more closely scrutinize the impact video games have on children. In September the government capped children's playing time to three hours per week in most cases, encouraging them to instead spend more time outdoors and leaving enforcement largely to companies. In one article this summer, a state-owned media outlet decried the "spiritual opium" of gaming. Although it later distanced itself from such loaded language, the government has made clear it wants video games to be brought under control.
That sentiment corresponds with President Xi Jinping's yearlong campaign to rein in large technology companies, which has both economic and social objectives. New rules target everything from education and e-commerce to finance, entertainment, and the gig economy, rattling investors and cowing the country's billionaires. For companies eager to tap into China's enormous population of young gamers, prospects that were already shaky look worse than ever.
The damage to Tencent, whose gaming business also includes such massive hits as League of Legends, was evident when it reported earnings on Nov. 10. Overall revenue increased 13% for the quarter, its slowest growth rate since the company went public in 2004. Gaming revenue within China grew 5%, compared with 20% growth internationally. Executives told investors they thought the disruptions would be temporary and said they have a large stockpile of new titles prepared for release once the regulatory uncertainties ease. A company spokesperson declined to comment further.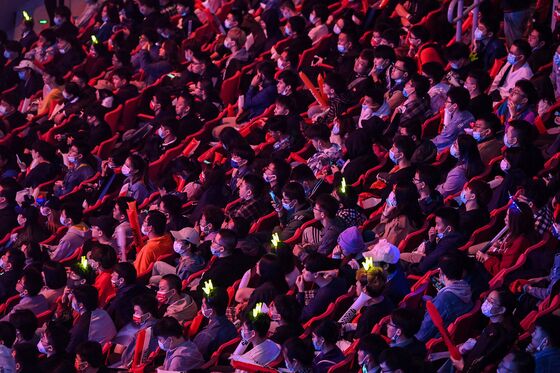 Even before the 2018 crackdown, Tencent made a large investment in Epic and acquired Riot Games Inc., which makes League of Legends. Now it's scooping up slices of gaming upstarts around the world. Chinese gaming companies such as NetEase Inc. have adjusted in part by looking abroad to set up studios in places from Japan to Canada and by poaching talent from Activision Blizzard Inc., Ubisoft Entertainment SA, and other powerhouses.
Foreign companies "need to focus on their core markets outside of China but be ready to take advantage of opportunities in the country when they arise," says Bloomberg Intelligence analyst Matthew Kanterman. "I think the fact that Tencent and NetEase, leaders in the Chinese market, are looking abroad for the next leg of growth in the gaming sector speaks volumes to the outlook domestically."
There's been a cyclical nature to China's gaming crackdowns. Officials have always sought tight control over the internet and media, and have long displayed hostility toward video games in particular. The country banned consoles including Sony Group Corp.'s PlayStation for more than a decade before allowing them in 2015, and some parents have felt the need to coerce their controller-toting children into training camps, where psychiatrists have used electroshocks to treat supposed internet addictions.
Things eased a bit in the mobile era, but the government carried on with regulatory barriers unseen in the U.S. and Europe, such as the requirement for government signoffs and the need for global developers to work with local partners that distribute their titles. The government surprised developers by freezing licenses in 2018 after Xi expressed concern that gaming was damaging children's eyesight.
Fortnite was able to win approval for a trial launch that year, but Beijing wouldn't let it offer a commercial version in which players could purchase digital items to decorate their in-game avatars. Tencent's failure to release the full game, along with the broader issues in the Chinese gaming market, wiped $200 billion from its market value over a period of about seven months in 2018—reducing its overall market value by almost half.
Even when regulators resumed approving new games, they never came around on Fortnite. Beijing hasn't explained why the title remains on the blacklist. It's not an obvious target for censors, who are most concerned with violence and gore. Some industry observers say Tencent alienated officials by going ahead with a test version, arguing that the company should've waited for the government's final nod, just to show respect.
"While an official reason was not given for the shutdown, this shows that even partnering with China's largest game company does not guarantee a license for a foreign game," says Daniel Ahmad, an analyst with video game researcher Niko Partners. "The strict regulatory environment and content requirements will always take precedence."
Tencent has found other ways to succeed in the Chinese gaming market. Its title Honor of Kings has been a huge hit since its 2015 release in the country. In 2019 it toned down another online multiplayer shooter for China, even changing the name from PUBG Mobile to Peacekeeper Elite to appease regulators. The local version recast the game's battle as a military drill rather than a death fight. Blood appears green, not red, and defeated players are depicted as wooden boxes instead of corpses.
The Chinese gaming market will be worth $46 billion in 2021, vs. $43 billion in North America, according to research company Newzoo. In 2020 regulators issued licenses to 1,400 new games, of which fewer than a hundred were imported from other countries, according to data tracker Statista. That compares with more than 9,000 licenses in 2017. Beijing's attempts to discourage young gamers are also showing results. In September users under the age of 18 accounted for less than 1% of the time spent on Tencent's China properties, down from 6% a year earlier.
Some parents in China applaud the new curbs. Wang Heng, a factory worker in the northern city of Tianjin, refused to buy his 16-year-old son a smartphone to keep him from gaming. He also took to cutting off the internet connection while not home so the boy couldn't sneak in a game or two. "I don't think the limits are too strict," Wang says. "I don't think games are necessary for kids. My generation grew up without all those online games, and we had a happy childhood and teenage life."
At the same time, the government can't simply tell young people what kinds of entertainment to like. On Nov. 6 millions of Chinese fans went online to watch the League of Legends world championship, held 4,000 miles away in Reykjavík, Iceland. When Shanghai-based Edwards Gaming won, the team's supporters reacted like victorious sports fans the world over, spilling out of bars and through college campuses, cheering, hoisting the team flag, and even streaking. (Afterward, the Communist Party Youth League felt compelled to warn fans that "running naked" put them at heightened risk of Covid-19 and could lead to their detention by authorities.)
Companies are trying to capitalize on video games' cultural sway, peddling gaming-adjacent content from music to streaming to animé, which are typically subject to less government control. Tencent sees its future as reliant on securing real estate in the so-called metaverse, the immersive online landscape that many technology companies increasingly see as the next phase of digital interaction. Tencent has registered metaverse-related trademarks in China and is hiring developers to create futuristic open-world games. When they faced investors on Nov. 10, the company's executives said they were confident Beijing wouldn't stand in the way. —With Karoline Kan
 
Read next: Facial Recognition Marches Forward, No Matter What Facebook Says