Zambia Inflation Surges as Currency Tumbles
Zambian inflation accelerated for a 13th straight month in April to the highest rate in almost four years as its currency continued to plummet.
Consumer prices rose 15.7% from a year earlier, compared with 14% in March, the Zambia Statistics Agency said Thursday. That's the highest rate since September 2016. Prices rose 2.2% in the month.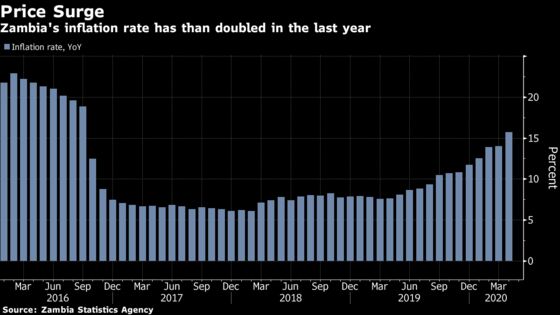 The kwacha has weakened 2.5% against the dollar this month, taking its plunge for the year to 24%, the worst-performing currency in Africa. The depreciation was partly driven by investor fears that the southern African nation will default on its debt. Moody's Investors Service and Fitch Ratings both flagged that risk when they downgraded their assessments of the country's debt in April.
Inflation has now been above the target band of 6% to 8% for 12 consecutive months and is expected to remain high in the earlier part of the central bank's two-year forecast period. That's preventing the Bank of Zambia from cutting interest rates to help cushion the economy against the the impact of the coronavirus pandemic. The International Monetary Fund projects gross domestic product will contract 3.5% this year.
Africa's second-largest copper producer experienced a severe drought in the southwest of the country during the 2018-19 rainy season, which pushed food prices higher and slashed output at the hydropower plants, resulting in daily rolling blackouts lasting as long as 12 hours. The southern African nation relies on hydropower for about 80% of electricity generation.