Zambia Holds Key Interest Rate While Warning That Hikes May Come
Zambia's central bank kept its key interest rate unchanged to boost economic growth, while warning that it could tighten policy if inflation doesn't return to target.
The Bank of Zambia held the rate at 10.25%, Governor Denny Kalyalya told reporters Wednesday in the capital, Lusaka. That's after the Monetary Policy Committee bucked the global trend in May by tightening by 50 basis points as inflation was accelerating.
That move hit economic growth prospects rather than containing inflation, which accelerated to 8.8% last month, the highest rate in almost three years. Gross domestic product is forecast to expand at 2% this year, according to Bloomberg's August economic survey, compared with 3.7% in 2018.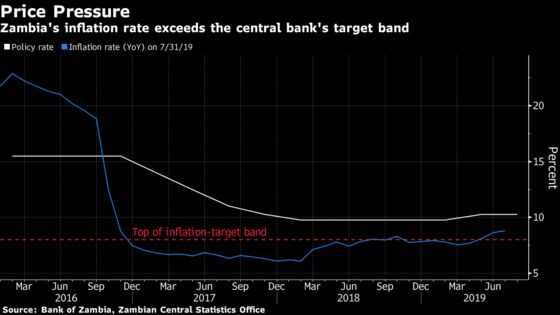 The MPC noted "further weakening of near-term growth prospects since the last MPC meeting," Kalyalya said. "Liquidity challenges and constrained aggregate demand continued to weigh on economic activity" and GDP growth is projected to slow due to the impact of the worst drought in almost four centuries on farming production, constrained electricity generation and lower-than-expected mining output, he said.
Inflation is projected to remain above the central bank's target band of 6% to 8% for much of the forecast horizon, which covers the next two years, Kalyalya said. Zambia is also battling high levels of government debt and fiscal deficits. These factors are likely to feed through to inflation via a weakening currency, the MPC said.
The International Monetary Fund said earlier this month that under current policies Zambia's public-debt growth is unsustainable.
While the risks lean toward further rate increases, the fact that inflation is driven by supply-side constraints such as the drought and electricity availability, complicates the central bank's task, Phumelele Mbiyo, a senior economist at Standard Bank Group Ltd. in Johannesburg, said by phone.
"All of those things have an inflationary impact, but there's no reason to think monetary policy would necessarily help in alleviating those pressures," he said.
What Bloomberg's Economist Says

"The decision signals continued complacency about risks to both exchange-rate stability and inflation. We see a rising risk that Zambia will default on its external debt servicing over the coming year, as well as run-up its domestic payment arrears."

--Mark Bohlund, economist

-Click here to view the research