Yum China Dips After KFC, Pizza Hut Miss Estimates for Same-Store Sales
(Bloomberg) -- Yum China Holdings Inc., which runs the biggest fast-food chain in China, isn't giving up on growing in the world's largest consumer market -- even at the risk of cannibalizing sales.
The KFC and Pizza Hut operator faces a sales slowdown in the country, with same-store sales falling 1 percent in the most recent quarter and trailing analyst estimates. While unexpected flat results from the fried chicken chain was a key issue, the company says its huge scale is partly to blame -- it operates the largest network of restaurants with 5,600 outlets.
"Given our size of operations, driving same-store sales growth is really not easy," Chief Executive Officer Joey Wat said on a call with analysts on the company's earnings. "We accelerated new store opening last year, and we continue the new store opening this year. In the short term, it'll put pressure on our same-store sales."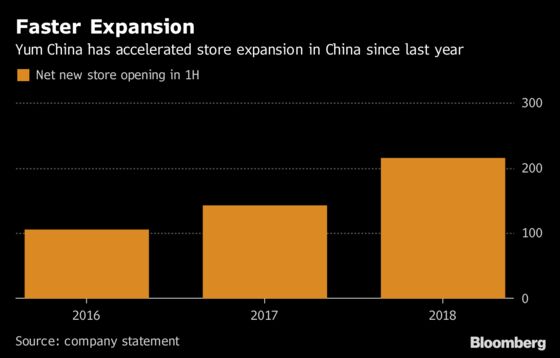 Yum China, created from the split of U.S. fast-food company Yum! Brands Inc. in 2016, has struggled to attract younger diners to Pizza Hut. Overhauling its mobile app, upgrading its menu and enlisting celebrities to tout the brand haven't helped much as the company contends with consumers hungry for healthier options and local fare. Pizza Hut's same-store sales dropped 4 percent in the quarter.
In the meantime, KFC's performance has propped up the company. But flat same-stores sales at the fried chicken chain during the quarter led to an unexpected decline for the overall company.
The disappointing results sent shares sliding as much as 6.6 percent in late trading in New York. They had already lost 11 percent this year.
Still, Yum China will continue with its expansion plans and is targeting 20,000 stores long-term, said Wat.
"It's the right thing to do, given our leadership in the market, and our ambition to maintain the leadership and market share in the long run," she said. "The China market is still a growing market. It still has a lot of opportunities."