Your Doorbusters for Market 'Stock'ing Stuffers: Taking Stock
(Bloomberg) -- If you're reading this, you're likely safe from the impending crush against the as-of-yet unlocked doors at some of America's famed retailers. But with S&P futures looking lower this morning there may be a few "doorbusters" available in the market as well, including stocks of the retailers themselves.
The overnight Wall Street Journal report that the U.S. is urging allies to avoid Huawei equipment initially took the market down, though it's unclear whether any blowback on U.S. tech stocks will occur given the tit-for-tat nature we've become accustomed to in Sino-U.S. relations. Given it's a private company, details are scant as to any supplier impact, but watch Jabil, Flex Ltd., Broadcom and Qualcomm given their exposure to Huawei competitors like Ericsson and Cisco. Optical stocks like Ciena, Infinera, Oclaro and Lumentum may also be impacted.
That tension will contrast with other indications that U.S. President Donald Trump and Chinese leader Xi Jinping are ready for their meeting at the G20. Trump said that China "wants to make a deal", and that "we're happy with that."
Oil too, is in focus on this holiday-abbreviated half day for equity markets. Supply concerns that arose earlier this week with Saudi Arabian production have resurfaced after Energy Minister Khalid Al-Falih said production was in excess of 10.7 million barrels. U.S. crude data also showed inventories rose for a ninth week. Oil servicing names like Ensco, TechnipFMC, Diamond Offshore and Halliburton appear to be the most impacted here early, each down more than 2 percent pre-market.
Energy isn't the only sector suffering from weaker sentiment.
Retail was in particular focus in recent days, especially after the XRT ETF set a new record of declines -- eight days -- on Tuesday before the weak-ish bounce that snapped the streak Wednesday. Even with that pop, Best Buy, TJX Co. and Ross Stores underperformed. The consumer discretionary sector doesn't get as much press as the communications services index and technology (that includes your favorite FAANG names), but it has actually beat out that sector as the worst performer over the past five days, down 4.4 percent. The XRT is off 15 percent from its August highs.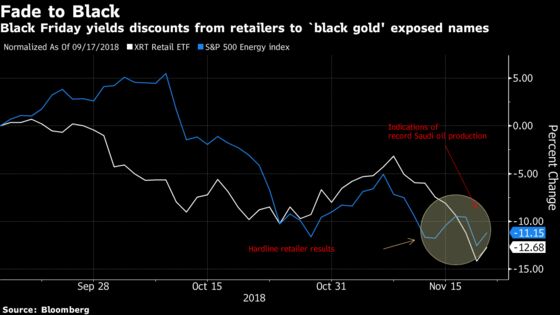 The last two Black Fridays have been bullish for the sector, with gains in excess of 0.25 percent. And in early trading, we have some slight indications from J.C. Penney, Overstock.com and Sonos (speakers) that we may go for a third. Large grains of salt are necessary though, given the close we saw Wednesday.
Though technically a bounce in the S&P, we closed at the lows in thin volumes, with most sectors selling off in the last hour of trading. SPX gave up nearly 17 points peak to trough. Can't blame anyone who needed to close positions before heading home for a potential long weekend. Optimism about a report that the Fed was considering ending a cycle of hikes quickly evaporated, though the implied likelihood for a Fed hike in the December meeting now sits slightly below where it was earlier this week, at 71.8 percent, down from 74.5 percent.
And finally on the docket -- which could keep attention spans frayed -- is the hyped showdown between golfers Tiger Woods and Phil Mickelson at 3 p.m.
A recent fintech IPO from Brazil, StoneCo Ltd., gets its first opportunity to quiet the naysayers with earnings, after it received mixed ratings from the Street when coverage was initiated Monday. In a similar fresh-IPO vein, sure-to-be-holiday favorite YETI Holdings (of rambler, cooler fame) is due to report. Gushing support with unanimous buys from the Street (at least 10) will come face-to-face Tuesday with their quarterly results. The consumer product maker closed just above its IPO price of $18 on Wednesday after opening in late October at $16.75. Tiffany and Dick's Sporting Goods round out the consumer discretionary names to watch.
In other tone-setting earnings, the much awaited Salesforce.com is also due, which could set the stage for a turnaround after a tough October and November for cloud-based software names that outperformed ahead of the sell-off. Other cloud and business productivity names Splunk, Workday and Box also report. With Workday's results, we may also get confirmation of that Disney contract after a report earlier this month sent shares soaring. A slew of Canadian banks are also due to report.
Conference season also picks up, with the HealthconX conference featuring Abbvie, Gilead and Bristol-Myers Squibb. The Credit Suisse TMT conference will feature Microsoft, which has emerged from the latest sell-off rather unscathed, as well as Sirius XM, Intel, AMD (down nearly 50% from its September highs), Micron Technology and IBM.
Research is light ahead of the half day for equities, though UBS is out with their thoughts on buy-rated Deere after its results that missed forecasts failed to keep the stock from closing higher. Steven Fisher was "encouraged" about the outlook for 2019, and chalked up some of the miss to FX impacts. Checks in the farmer channel indicate that they "finding ways to remain profitable", and that includes investing in technology and replacement.
Bernstein lowered their price target on Target to $81 from $86, though writes that "even with extended margin compression", its multiple can't justify the discrepancy from its peers. The retailer is "trading like it's in a recession", but Bernstein stays outperform with the expectation that margin will expand, though at a slow pace. It feels like the "twilight zone" when a retailer disappoints the Street with 5.1% comps, analyst Brandon Fletcher wrote.
Tick-by-Tick Guide to Today's Actionable Events
Today -- U.S. equity markets close at 1pm, bond markets close at 2pm
Today -- Black Friday
9:45am -- Markit PMIs
3:00pm -- Tiger vs Mickelson Pay-per-view