Yeti Soars After Blowing Analyst Estimates Out of the Water
(Bloomberg) -- Yeti Holdings Inc. jumped by a record 15 percent Monday morning after the maker of premium outdoor coolers raised the bar with its preliminary fourth-quarter results, boasting an "impressive" 19 percent sales increase that surpassed analysts expectations.
Net sales were projected nearly $15 million higher than the average estimate, driven by wholesale and direct-to-consumer beats in key categories, such as 24 percent growth in drinkware sales. Yeti's preliminary adjusted earnings for 2018 came in at 88 cents to 90 cents a share, topping its previous forecast of 79 cents to 82 cents. Analysts are upbeat on the ability of the Austin, Texas-based company to carry momentum from a strong quarter in which holiday shoppers elevated sales.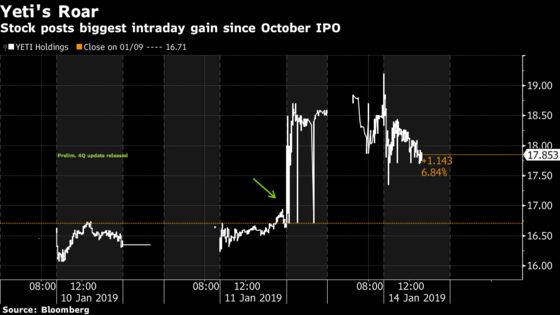 Here's a roundup of analysts' comments on Yeti report, out Friday afternoon after the market closed:
"YETI's brand continues to strengthen via introducing new product categories, improving brand awareness, and further expanding its DTC business"
"Updated 4Q18 guidance reinforces our view this brand can achieve a 10% to 15% annual revenue growth rate, accompanied by stable to improving operating margin rates"
Rates YETI outperform, price target $19
"The recent hiring of a Chief Marketing Officer with global experience underscores the direction the brand is headed, and efforts to limit the company's sourcing exposure to China appear to be on track (soft coolers and bags will largely be non-China sourced by 2020)"
"Coolers & Equipment growth rebounded to +10% from 3Q's ~5% adjusted decline, although this fell short of our upper-teens forecast. All told, an impressive finish to the year"
KeyBanc Capital Markets, Brett Andress
"We view results positively for YETI, representing a nice step toward showing that the business can 'comp the comp' going forward, as 4Q18 represents the first more-difficult comparison since the 2017 reset period."
"DTC continues to impress, accelerating ~20 points sequentially to +45.4% vs. 4Q17"