Yeti Gets Unanimous Buy Ratings as Wall Street Weighs In
(Bloomberg) -- Yeti Holdings Inc. has so far received a warm reception on Wall Street with 10 buy ratings in its first 10 initiation reports.
Analysts say the Austin, Texas-based outdoor products maker should be able to post double-digit earnings and sales growth in 2019 and 2020, driven by growth in online sales, including through Amazon.com Inc., and internationally. The shares rose as much as 5.6 percent to $17.98 in Monday's session, near the initial offering price of $18 and erasing the stock's 5.4 percent decline in their first few weeks as a public company through Friday's close.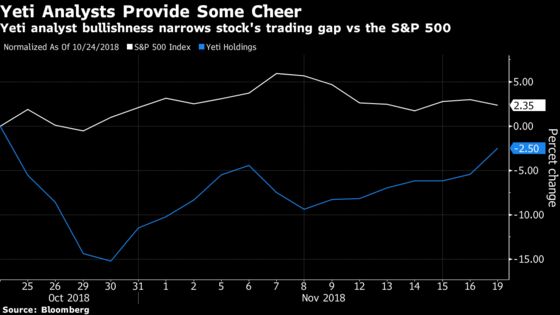 Baird's Peter Benedict said that Yeti can become a $1 billion consumer brand within the next few years, while Morgan Stanley's Kimberly Greenberger wrote that the company could see 10 percent to 11 percent revenue growth through 2020.
Here's what some other analysts are saying:
Konik initiated Yeti with a buy rating and a street-high price target of $34 -- double the stock's closing price from Friday.
"With its fast-growing, margin-enhancing DTC channel, product cost improvements, and lower air freight, we see top-line and margin opportunities as plentiful."
Konik said Yeti should be able to expand its current operating margin by about 350 basis points, from 11.9 percent to greater than 15 percent longer term through deeper direct-to-consumer penetration, product cost improvements and lower airfreight costs.
International expansion is "still in early days" as Yeti began selling into Canada and Australia last year and Japan this year and management plans to move into other geographies, including Europe and China.
Bank of America Merrill Lynch, Robert Ohmes
Ohmes initiated coverage with a buy rating and $22 price target. "We believe YETI should trade at a premium to other high quality branded durable peers given impressive brand momentum."
Yeti has grown from sales of just $3 million in 2008, when it sold just hard coolers, to forecast revenue of more than $961 million in 2020, with its expanded product line that includes coolers and equipment, drinkware, as well as apparel and accessories.
Ohmes estimates three-year revenue CAGR will be 12 percent, supported by growing shelf-space at key national accounts including Dick's Sporting Goods Inc, as well as YETI.com, Amazon.com and four to six YETI stores to open per year in 2019-2020.
"We forecast stable EBIT margins over the next several years as gross margin expansion supported by a shift to higher margin direct-to-consumer should be offset by increased investments in direct-to-consumer and marketing as well as potential cost pressures from tariffs."
Duffy started coverage with a buy and price target of $21. "We expect YETI to continue expanding the range of use cases for the brand and the addressable consumer audience."
"Led by DTC growth upwards of 20%, we expect multiple years of double-digit revenue growth and believe YETI can approach $1 billion in revenue in 2020 with 20% adj. EBITDA margins, positive cash flow, and ROIC in the high-twenties."
"YETI valuation shows a discount to comparable Growth Lifestyle Brands, Outdoor and Consumer Product Brands, and Luxury Brands."
"While we expect tariff risk and insider ownership to be an overhang on shares near term, we believe long-term investors will be rewarded by both earnings growth and multiple expansion."
Goldman, Alexandra Walvis
Walvis started coverage with a buy rating and a price target of $27.
"We view YETI as an undervalued lifestyle brand, rooted in production and retail of functional and premium lifestyle products."
"We expect YETI to deliver strong sales growth and margin expansion, and overall we forecast double digit EPS growth in FY19/FY20." Walvis cited improved control of distribution, strong brand momentum with growth potential across end markets and channels, and a shift to direct-to-consumer driving stronger margins and returns.
Even though some Yeti products are manufactured in China, Walvis expects "the company will be able to successfully mitigate a portion of the tariff impact through a combination of other operating efficiencies, negotiations with retailers and suppliers, supply chain adaption, and other mitigating factors."
KeyBanc Capital Markets, Brett Andress
Andress has an overweight rating and $22 price target.
"We view YETI as an innovative, premium brand uniquely positioned for growth, driven by its high-growth, high-margin DTC business and relationships with key national accounts."
Long term, "we like YETI's ability to leverage the brand into new, adjacent markets and see international as a meaningful opportunity."
"After a period of hyper growth, YETI experienced a difficult 1H17 (sales and adjusted EBITDA -45% and -88%, respectively), driven by excess channel inventories, knockoff product proliferation, and a weak wholesale marketplace." Management has since taken actions to stabilize and invest in the business with new innovation, new marketing, channel diversification and geographic diversification.