Yeti Hit by Inventory Buildup Ahead of Tariffs, DTC Slowdown
(Bloomberg) -- Yeti Holdings Inc. has soared since going public in October, but the stock hit a bump Thursday as concerns related to the company's direct-to-consumer sales growth and elevated inventory outweighed strong-second quarter results and increased guidance.
Shares fell as much as 8.6% before paring losses, and the stock is on track to close lower for a third consecutive session.
The company is well known for its popular coolers, but the threat of additional tariffs and anticipated sales growth prompted a "strategic buildup" of Drinkware, management said in the earnings release. Inventory increased 21% year-over-year, exceeding sales growth of 12% for the quarter and well above Baird's estimated 8% increase.
"Excluding this dynamic, management noted inventory growth would have been below sales," Baird analyst Peter S. Benedict wrote in a note to investors. "Given momentum within Drinkware, we see no issues with this inventory build."
While Drinkware saw the biggest growth across product categories, Goldman Sachs said in a note that "the key surprise this quarter was outperformance in Coolers & Equipment, which grew 9.5% in the quarter."
Goldman said the company's earnings and revenue beat was largely driven by stronger wholesale sales, adding that the positive results and boosted full-year forecast "will be somewhat offset by a weaker than expected result in YETI's high-growth DTC channel" as well as the elevated inventory.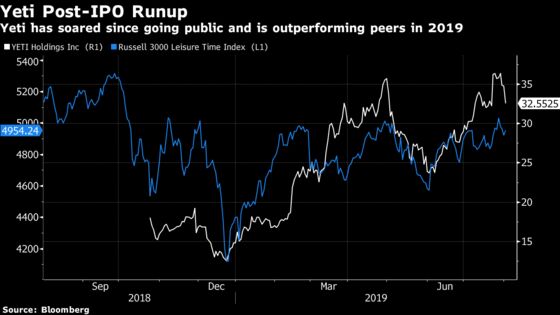 Direct-to-consumer net sales increased 43% year-over-year in the second quarter, and the company opened its second retail location in June in Charleston, South Carolina as part of its broader DTC strategy. Yeti's management of retail expansion is among risks listed by Benedict for his outperform investment thesis on the stock.
"The company has limited experience operating retail stores and may not be able to achieve desired sales and profitability levels," he wrote.
Yeti shares have gained 117% year-to-date, outperforming peers in the Russell 3000 Leisure Time Index, which is up about 12%. And Wall Street remains overwhelmingly bullish on YETI, with 11 of the 13 analysts tracked by Bloomberg giving the stock a buy-equivalent rating.