Yeti's First Results Show Street Was Too Pessimistic on Its Coolers
(Bloomberg) -- Shares of Yeti Holdings Inc. plunged as much as 15 percent after earlier hitting a record high, as investors studied the cooler maker's first quarterly earnings as a public company and commentary provided on the conference call.
The Austin, Texas-based producer of coolers and other outdoor products forecast full-year adjusted earnings per share of 79 cents to 82 cents, above the consensus estimate of sell-side analysts even at the bottom of its range. Third-quarter earnings also beat estimates.
But optimism gave way to pessimism amid weak sales in the Cooler/Equipment Segment, and possibly some commentary on the call that caused investors to pause.
Yeti noted that even after backing out last year's non-recurring disposition of end-of-life soft cooler inventories, sales in the Cooler/Equipment segment were still "slightly down" versus last year. Management cited a slower-than-expected ramp of its new Tundra cooler in the wholesale channel and the "rolling over several exciting launches from last year."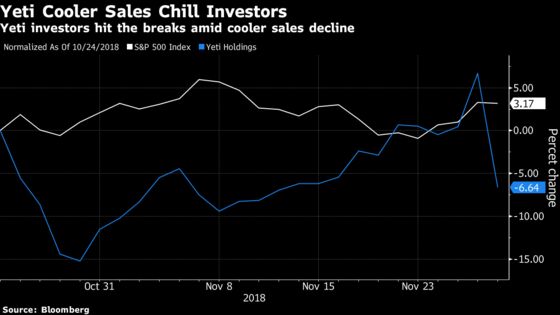 Jefferies analyst Randal Konik told clients in a note that shares are weak "given a slightly lower-than-Street-modeled Cooler/Equipment line, but we think this is a big overreaction."
He isn't alarmed that some orders were "more slanted to Drinkware." He estimates Coolers/Equipment sales growth of more than 10 percent in the fourth quarter. Konik rates Yeti a buy, with a Street-high price target of $34 per share.
In addition, conference call commentary revealed that there was a change to Yeti's revenue recognition policy with Amazon.com. "We now recognize that on sell-through versus sell-in" basis, executives said on the call. "So, in the first quarter of 2019, we will be comparing Amazon sell-through to Amazon sell-in, and that will create a little bit of a nuance."
In addition, Yeti intends to slowly increase its physical store presence beyond its one, full-price store in Austin, Texas. The plan includes opening as many as six stores per year in both 2019 and 2020. The expansion means additional capital spending above its $30 million to $35 million run-rate.
On the call, Yeti also provided a long-term sales growth target ranging from 10 percent to 15 percent, which is below its 2018 forecast of a 19 percent to 20 percent gain.
Prior to Thursday, Yeti had risen 6.7 percent above its Oct. 24 initial public offering price of $18 per share, doubling the S&P 500's rise over the same period. Today's volatility saw the shares advance as much as 12 percent to a record-high $21.45, only to erase that gain.