Yes Bank's Bonds and Shares Drop After Director Resigns
(Bloomberg) -- Yes Bank's shares and dollar bonds plunged after an independent director resigned citing corporate governance concerns at the lender.
Uttam Prakash Agarwal said in a phone interview that he resigned on Friday, citing what he described as deteriorating standards of corporate governance and compliance failures. He blamed the bank's Chief Executive Officer Ravneet Gill and other senior executives for the alleged failings.
Yes Bank shares fell 5.4% in Mumbai, the biggest drop in a month. Its 3.75% dollar notes due February 2023 declined 4.7 cents on the dollar to 79.9 cents, the biggest plunge in over three months, prices compiled by Bloomberg show.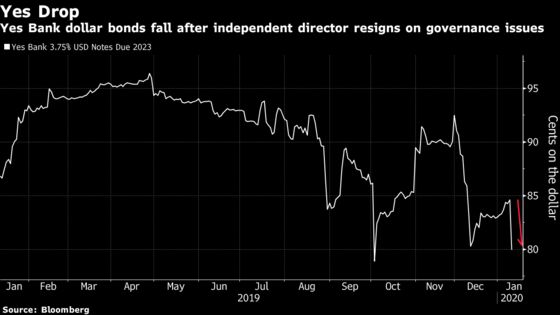 Agarwal's claims will be examined, Yes Bank said in a filing confirming the resignation.
The lender's board is meeting Friday to discuss raising funds to bolster capital to provide for a surge in bad loans.