Yale Posts 12.3% Gain as Endowment Reaches Record $29.4 Billion
(Bloomberg) -- Yale University, the second-largest endowment in higher education, posted a 12.3 percent investment gain on the strength of its alternative investments.
The value of Yale's endowment rose to $29.4 billion for the year ended June 30, the New Haven, Connecticut-based school said Monday in a statement. The value is a record, according to data compiled by Bloomberg.
Some of the best-performing endowments this year have reported gains driven by private equity and venture capital, which is boosting the case for active management.
Almost 60 percent of Yale's assets in fiscal 2019 are targeted for alternative investments including venture capital, hedge funds and leveraged buyouts, according to the Ivy League school. Domestic equities have a slim target allocation of 3 percent.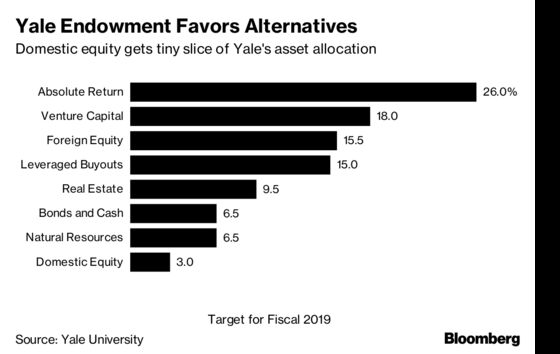 Yale didn't disclose performance by asset class in the latest period. The school said venture capital returned an annualized 16 percent in the past 10 years while leveraged buyouts gained 10.2 percent in the decade.
The investment office said its venture capital portfolio gained 165.9 percent over the past 20 years, which was "heavily influenced by large distributions during the internet boom." Yale said it's "inappropriate" to compound the return. The portfolio's time-weighted return in the period is 24.6 percent, according to the statement.
Returns for leveraged buyouts, venture capital, real estate and natural resources are dollar-weighted internal rates of return, because managers of illiquid asset classes determine when to buy and sell assets, Yale said.
Yale's return compares with a median 8.3 percent gain for endowments of all sizes, according to preliminary data compiled by consultant Cambridge Associates. Yale rival Harvard University, the richest school in U.S. higher education, posted a 10 percent return, boosting its total value to $39.2 billion.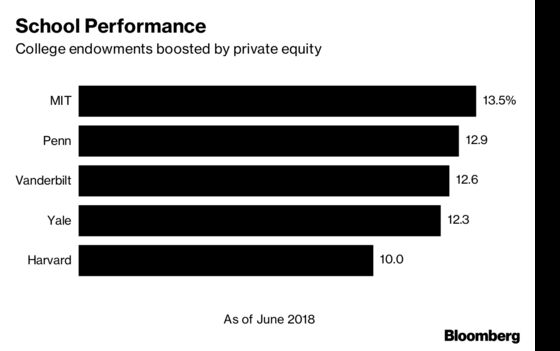 Spending from Yale's endowment is projected to be about $1.4 billion, or about one third of the university's revenue. Yale is one of about 30 colleges that will pay a new endowment tax of 1.4 percent on net investment returns.
David Swensen has led the endowment since 1985. The endowment returned an annualized 7.4 percent in the past 10 years and 11.8 percent over the last two decades.