Xponential Revives IPO Plans After $300 Million Rumble Purchase
(Bloomberg) -- Xponential Fitness LLC, the franchise owner of boutique fitness brands including Club Pilates and CycleBar, has revived plans for a U.S. initial public offering after setting them aside when the Covid-19 pandemic hit, according to people with knowledge of the matter.
The Irvine, California-based company is planning a 2021 listing which may value it at about $1.3 billion, said the people, who asked not to be identified because the information is private.
Xponential last month said it acquired boutique boxing workout brand Rumble, which counts Justin Bieber, Selena Gomez and David Beckham among prior class attendees. The deal's value, which wasn't disclosed in the announcement, was as much as $300 million, the people said.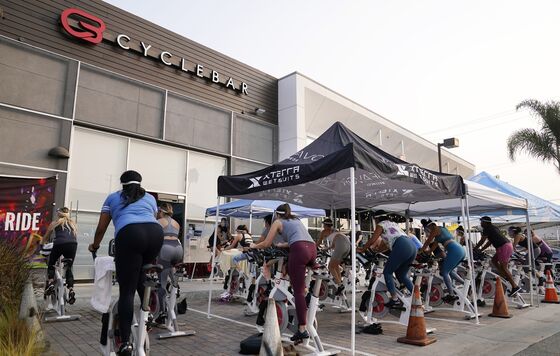 Xponential founder and Chief Executive Officer Anthony Geisler declined to comment on the company's IPO plans and Rumble's acquisition price.
With Xponential's backing, the boxing concept will be able to scale more quickly. "We can sell more locations in a month than they can open in a year," he said.
The company posted $435 million in revenue from franchisees in 2020 despite Covid-19, as outlets turned to offering outdoor and digital workouts, Geisler said. Xponential operates a filming studio that produces digital content for its brands, which also include Pure Barre, dance-based cardio workout AKT and treadmill-based Stride. Rumble has its own digital platform, Rumble TV.
"We came through the pandemic very well and are pretty much getting back to where we were," said Geisler, adding that he may consider the acquisition of strength or high-intensity interval training concepts.
Xponential opened 240 new studios in 2020, nearly 40% less than its 2019 total, and has expanded into countries including Saudi Arabia, Japan, South Korea and Australia.
About 46 of its roughly 1,800 locations are closed due to government mandates, Geisler said. The company, which counts Snapdragon Capital and L Catterton among its investors, was able to take over Flywheel Sports Inc. and YogaWorks Inc. locations when they closed permanently last year, he added.
Institutional investors are likely to compare Xponential to budget gym operator Planet Fitness Inc., which sells franchise licenses and has more than 2,100 locations. Its stock has gained more than 60% in the past 12 months.