XPO Sinks as Analysts Link $600 Million Shortfall to Amazon
(Bloomberg) -- XPO Logistics Inc. plunged after reducing its 2019 profit forecast for the second time in two months, citing softer demand in Europe and lost business from its largest customer.
While XPO didn't identify the mystery client, Wall Street analysts and industry consultants said it was almost certainly Amazon.com Inc. The e-commerce giant has been building its own package-delivery business to reduce its dependence on third-party carriers and logistics companies.
"There's no other way to say it. We missed the quarter," XPO Chief Executive Officer Brad Jacobs said Friday on a conference call with analysts to discuss earnings. "We miscalculated the weakness in France and the U.K., and in December our largest customer pulled back their postal injection business."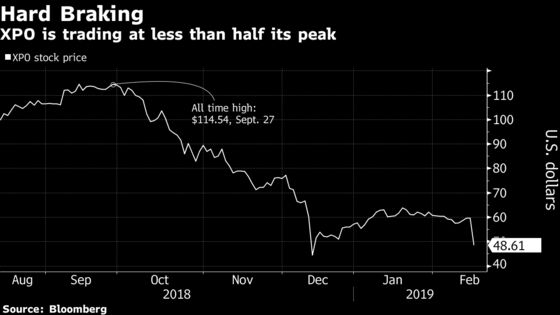 The disappointing results spurred doubts about the ability of the trucking company and warehouse operator to maintain its torrid rate of expansion and acquisitions. XPO's largest customer cut back by two-thirds, Jacobs said, eliminating $600 million in sales for operations such as processing and transferring packages to the U.S. Postal Service. Business in France was damped last quarter by the so-called Yellow Vest street protesters.
The shares tumbled 15 percent to $50.64 at 1:36 p.m. in New York after sliding as much as 21 percent for the biggest intraday decline in two months. XPO plummeted 42 percent during the six months through Thursday, compared with a 25 percent drop for FedEx Corp. and a 6 percent fall at United Parcel Service Inc.
Jacobs said the top customer notified XPO in mid-December -- at the peak of the holiday rush -- that it was pulling a big chunk of business.
With the lost sales, XPO said its five biggest customers would make up about 8 percent of revenue in 2019, down from 11 percent in 2018. The No. 1 customer had made up roughly 4 percent to 5 percent of revenue last year, Jacobs said.
"Two-thirds of that business has gone away," he said. "So that's a body blow, no question about it."
Citigroup Inc.'s Christian Wetherbee and Deutsche Bank AG's Amit Mehrotra speculated that the customer was Amazon, as did industry consultants.
"It's without a doubt that it's Amazon," Marc Wulfraat, founder of logistics consulting firm MWPVL International Inc.
"It can't be anybody else," said Satish Jindel, founder of SJ Consulting Group. "For that kind of volume, there are only three companies that can do that: Amazon, UPS and FedEx, in that order. And UPS and FedEx are in the transportation business and wouldn't use another company."
Amazon probably wanted to eliminate XPO as a middleman and handle more of the business itself, the consultants said. That extends a trend in which Amazon's investments in shipping and logistics are unnerving investors in its current shipping partners.
The Seattle-based retailer has been building its own network of delivery partners who often take packages directly from its warehouses to customers, reducing the reliance on third-party companies. Amazon pays independent contractors in their own cars to make deliveries using an Uber-type smartphone app called Amazon Flex.
Last summer, Amazon recruited entrepreneurs to lease vans and hire drivers to make deliveries on its behalf, offering discounts on vehicles and insurance and a steady stream of business. Thousands of drivers dropped off packages through the program during the holiday quarter and Amazon continues to recruit new business owners.
Separately, Amazon is leading a $700 million equity investment on Rivian, the CEO of the Michigan-based maker of electric trucks said Friday.
XPO pared its 2019 forecast for earnings before interest, taxes, depreciation and amortization to between $1.65 billion and $1.73 billion, which would represent an increase of 6 percent to 10 percent. Just two months ago, the company cut its outlook to a gain of as much as 15 percent from an earlier target of up to 18 percent.
Adjusted fourth-quarter earnings rose to 72 cents a share, Greenwich, Connecticut-based XPO said in a statement late Thursday. That trailed the 84 cent average of analyst estimates compiled by Bloomberg.
The shares fell 26 percent on Dec. 13, the most on record, after a short-seller published a report warning of "unreliable and dubious financials." XPO had mostly recovered from that hit through Thursday.