Xilinx Surges, and Analyst Says: 'We Feel Dumb for Missing This'
(Bloomberg) -- "Boy do we feel dumb for missing this stock," Raymond James analyst Chris Caso said Thursday after Xilinx Inc. posted a surprising beat-and-raise third quarter.
The maker of logic chips reported record revenue on 5G strength and likely market share gains from Intel Corp. in emulation, Caso wrote in a note to clients. Design wins in the data center sector have yet to translate into big revenue gains, suggesting a potential for a more significant catalyst in the future, he said. Even so, Raymond James is "hesitant to chase the stock at these levels" and maintained its neutral rating.
Xilinx shares jumped 14 percent at 9:39 a.m. in New York to a record high, leading a rally in semiconductor stocks. Several analysts raised their price targets on Xilinx after the results, but valuation concerns are keeping many on the sidelines.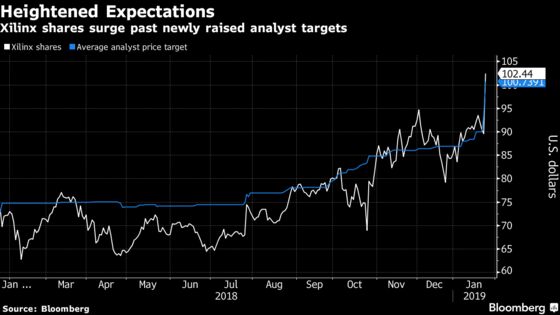 Here's what other analysts are saying:
Deutsche Bank, Ross Seymore
Xilinx is benefiting from early 5G deployments, wins in defense and space, and leadership in the Test, Measurement & Emulation division. "While these tailwinds are likely to persist for XLNX in the near-term and we continue to applaud the co's recent growth record in a volatile semiconductor environment, we retain our Hold rating as we believe this strength is already reflected in the co's valuation and fear that cyclical headwinds facing the broader semi sector will eventually impact XLNX as well."
Price target raised to $90 from $80
"Since our August '18 visit, we've noted the potential that XLNX is looking more like a structural grower -- a characteristic we associate with outperformance in a weakening cycle. While the quarter reinforced this fundamental view, we are reluctant to upgrade owing to some lingering cyclical concerns and valuation."
Rates hold, price target raised to $102 from $77
Morgan Stanley, Joseph Moore
"Xilinx continues to outshine semiconductor peers in an increasingly uncertain demand environment for the industry."
"While industrial concerns will remain in the near term, we expect Xilinx to deliver another double digit growth year in FY20."
Overweight, price target raised to $101 from $98
"Xilinx reported a near perfect quarter, particularly given the weak semis backdrop."
"We admit to underestimating the magnitude of near-term upside driven by early 5G builds, and improved positioning vs Intel's PSG, and commend mgmt's execution on these fronts."
"We await more signs of traction in datacenter before arguing for material upside from here."
Market perform, price target raised to $105 from $81
"How is XLNX posting these numbers when everything in semiconductors is supposed to be bad? Simply put, the communications end market is driving the growth and upside. XLNX results could be an indication that other companies under our coverage (e.g. MXL, MRVL & CEVA) may too start to benefit from the 5G network buildouts."
Bloomberg Intelligence, Woo Jin Ho
"Xilinx delivered double-digit gains across all segments. But the 41% year-over-year sales improvement in communications led impressive results."
"As attention shifts to the 2020 sales view, we expect data-center to play a bigger role in revenue, backed by new applications and products."