Wall Street Can't Get Enough of WWE's Wrestle Mania
(Bloomberg) -- There's not a smackdown in sight for WWE investors riding high on a content rights-driven rally.
Shares of the entertainment company have already soared 200 percent this year, largely due to new television contracts secured in June with Fox Sports and USA Network.
More contracts are due to be signed by the end of this year and into 2019, which will show whether or not the company can keep rising -- something analysts seem to agree is likely. In fact, the contracts are considered to be a more important measure of the company's health than earnings coming up this month.
The Stamford, Connecticut-based company doesn't have a single sell rating, and hasn't had one since 2014, according to analysts tracked by Bloomberg. And the wrestling producer's constant addition of new hours of original programming, as well as ownership rights to its content, makes it a unique asset, said Robert Routh, an analyst at FBN securities.
WWE shares fell much as 2 percent on Thursday.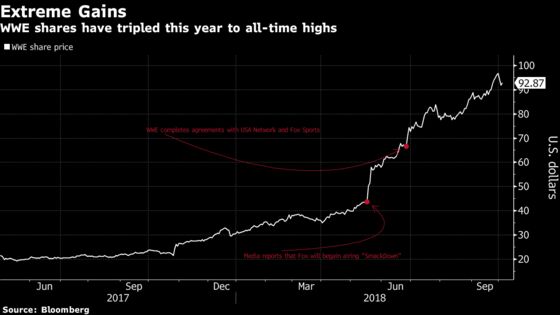 Analysts are focused on upcoming contract announcements with India and the U.K.
"Those countries, plus the other ones that are yet to be settled, are nothing compared to the size of the U.S. deal, but that has impact on what the next several years look like as opposed to one quarter," said BTIG analyst Brandon Ross. Analysts are much more interested in the upcoming contracts than in third quarter earnings, expected later this month.
Investors will be watching whether WWE renews deals on good terms, as well as chances of M&A activity. Routh, who maintains a hold-equivalent rating on WWE, said that even though Chairman Vince McMahon hasn't been interested in selling, there's always a chance he will get an offer he can't refuse.
BTIG's Ross, who rates WWE a buy, said he believes the company's valuation -- it's trading at 115 times estimated 2018 earnings -- is pretty reasonable given the combination of visibility and growth that the contracts provide.
"There are very few companies to get excited about now and this is one of them," he said.