Worst Winds in Decades Deal New Earnings Blow to Power Suppliers
(Bloomberg) -- The weakest breezes in decades are dealing yet another blow to wind power generators' earnings.
Avangrid Inc. posted $217 million in net income for the first quarter, down from $244 million a year earlier, citing low production from its wind farms. Two days earlier, renewable-energy giant NextEra Energy Inc. similarly said slow breezes shaved 10 cents a share off the earnings from its power plants. That's after the company reported the worst fourth quarter for wind resources on record.
The culprit: a lingering El Nino in the equatorial Pacific Ocean that calmed winds that normally rush up through the Great Plains. The situation was only exacerbated by deep freezes in January that forced operators to halt turbines to prevent damage. The weather phenomena are dogging wind power generators still reeling from an equally weak fourth quarter.
Winds in the first quarter were "the worst in ten years" for Avangrid, Chief Executive Officer James Torgerson said during a conference call. "The wind resource has been significantly below normal in all our regions."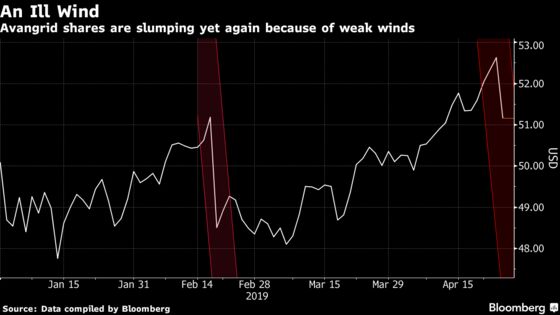 Avangrid slid as much as 5.8 percent to $49.56, the biggest decline since February.
In the Southwest Power Pool, which operates the electric grid spanning 14 states from New Mexico to Minnesota, wind output in the first quarter fell 4 percent to about 9 gigawatts from a year earlier, grid data compiled by Bloomberg show. That's even as wind power capacity has gained on the system.
For NextEra, the "first quarter fleet-wide wind resource was one of the worst over the past 30 years," Rebecca Kujawa, chief financial officer, said on a conference call Tuesday.
It didn't get better as spring approached. March was "definitely a quiet month,'' with unusually low temperatures and high pressure that typically leads to calmer skies, said Todd Crawford, chief meteorologist at the Weather Company in Andover, Massachusetts. But things could look up for wind-farm owners in the second quarter amid more robust breezes, he said.