Worst Indonesian Plane Crash Since 1997 Rekindles Safety Concern
(Bloomberg) -- Indonesia's worst plane crash in two decades threatens to jeopardize the country's fragile air-safety reputation just as the Southeast Asian nation has been regaining international credibility.
Lion Air flight 610 came down 13 minutes after departing Jakarta's main airport for the popular tourist destination of Pangkalpinang, off the coast of Sumatra. All 189 people on board the Boeing Co. 737 Max 8 -- delivered to the discount specialist only in August -- are feared dead, threatening to produce the country's highest death toll in an air disaster since 1997.
While the cause isn't clear, the tragedy raises questions about the safety record of a country whose airlines were for years judged too dangerous to fly over Europe. The crash, potentially the world's worst in three years, threatens to derail Indonesia's recovery only four months after the European Union lifted a flying ban and acknowledged that safety improvements had been made.
"There's still a safety issue in Indonesia despite the EU lifting the ban," said Shukor Yusof, founder of aviation consulting firm Endau Analytics in Malaysia. "Indonesia can't fix this problem on its own. With the rapid rise in passengers and planes, it needs help."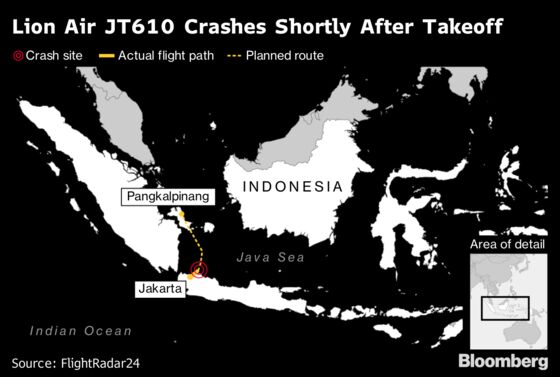 The European Commission said there'd been "no indication" that safety levels at Lion Air or safety oversight in Indonesia as a whole had deteriorated. The decision to remove Indonesian carriers from the banned list was taken in 2016 on the basis of expert analysis, Commission spokesman Enrico Brivio told reporters in Brussels on Monday.
The nation's domestic airline market has boomed in recent years to become the fifth largest in the world. Local airline traffic more than tripled between 2005 and 2017 to 97 million people, according to the CAPA Center for Aviation, and is dominated by flag carrier PT Garuda Indonesia and Lion Air Group.
Carriers have struggled with safety issues partly as a result of the pace of that expansion, as well as issues intrinsic to a region of mountainous terrain, equatorial thunderstorms and often underdeveloped aviation infrastructure. Lion Air was among Indonesian airlines that were banned by the EU from 2007 through 2016, according to the Aviation Safety Network database maintained by the Flight Safety Foundation.
After Monday's crash, Australia's government banned its officials and contractors from flying with Lion Air until further notice, and the decision will be reviewed when findings of the accident investigation are clear.
Jakarta-based Lion, owned by closely held PT Lion Mentari Airlines, is among Boeing's biggest Asian customers, placing an order in 2012 for 201 of the manufacturer's new 737 Max jets together with 29 extended-range 737-900s in a deal worth $22.4 billion at list prices.
Lion Air has suffered several hull losses, the industry term for aircraft damaged beyond repair. The most recent was in 2013, when a two-month-old Boeing 737-800 landed in the water short of a runway at Ngurah Rai Bali International Airport. While the aircraft fuselage broke apart on impact, there were no fatalities.
Boeing said local authorities have already located the wreck of Monday's crash, adding that it "stands ready to provide technical assistance to the accident investigation." The relatively shallow waters in the area have an average depth of about 150 feet.
Vessels first spotted the plane as it plunged into the sea, said M. Syaugi, head of the rescue agency. Ships and helicopters rushed to the site, about 34 miles east of Jakarta, and teams are searching for survivors among the aircraft debris and personal belongings. According to data on FlightRadar24, Flight JT610 reached an altitude of 5,450 feet minutes into the flight then lost height rapidly.
The search and rescue agency said it expects no survivors from the crash and bodies of most victims were probably trapped inside the fuselage of the plane in the seabed. Rescuers have so far been able to recover only body parts, debris of the plane and some belongings of passengers, Operations Deputy Bambang Suryo Aji told reporters in Jakarta.
Based on the number of people on board, Monday's incident could be the most lethal since a Russian Metrojet aircraft with 224 people on board crashed in Egypt in 2015. The last major accident in Indonesia was in December 2014 when an AirAsia Indonesia Airbus A320 aircraft plunged into the sea from cruising altitude during a storm after departing Surabaya for Singapore with 162 people on board.
This week's crash appears to be the worst since 1997, when a Garuda Airbus A300 plane came down in a wooded ravine, killing all 234 people on board.
Lion Air, which began operations in 2000, serves 183 local routes as well to some overseas markets such as Singapore, Malaysia, Saudi Arabia and China, according to its website. Its unit Malindo Air was the first in the world to put the 737 Max plane into service.
The 737 is a workhorse of budget carriers and Boeing's all-time best-seller aircraft. The Max is the most recent model in an aircraft family dating to the mid-1960s. The database lists 208 hull losses for the single-aisle aircraft since 1970.
The crashed Lion Air jet had just 800 hours of flight time, according to Indonesia's National Transportation Safety Committee.