World's Most Valuable Pot Company Envisions $100 Billion Future
(Bloomberg) -- To hear its chief executive tell it, Tilray Inc., the cannabis company that has seen its valuation double since the beginning of the month, is only getting started in the stock market.
Tilray is interested in the burgeoning market for consumer products that use ingredients from marijuana, CEO Brendan Kennedy said in an interview in New York Tuesday. "We've had lots of conversations with lots of companies," he said, though he declined to provide specific details about any potential partnerships.
His comments come in the wake of high-profile cannabis industry investments by Constellation Brands Inc. in Canopy Growth Corp., the company Tilray just dethroned to become the largest pot stock. Beverage giant Coca-Cola Co. is also studying the potential of drinks infused with CBD -- the non-psychoactive ingredient in marijuana.
But Kennedy said he's not interested in getting acquired by a large consumer company. It's perhaps testament to the euphoria surrounding the space that he claimed the company may one day be among a few other players in the industry with a valuation north of $100 billion.
"I don't want to get bought by AB-InBev or Diageo, I want to be that company," he added.
This growth potential is not predicated on U.S. legalization, Kennedy noted. He expects the number of countries to legalize medical marijuana to nearly double over the next few years. In addition, Kennedy and team will also consider opening their own retail stores in Canada.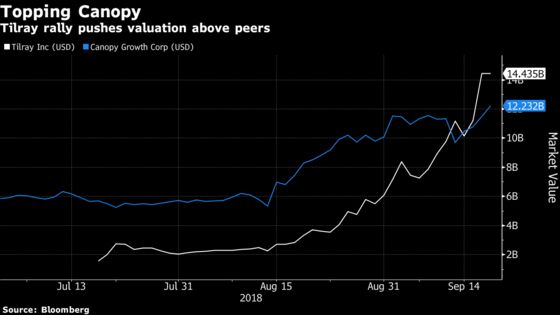 Tilray, based in British Columbia, Canada, has seen its shares soar more than 800 percent since it debuted in public trading in July. The stock is up 49 percent in pre-market trading to $230 per share, following Tuesday's 29 percent advance after the company announced it had received U.S. approval to import medical cannabis to California for a research project.
The company's market value has surged more than Kennedy expected in such a short period of time, but he's not worried it's overvalued. Well-known activist short-seller Andrew Left has suggested Tilray's shares are destined to fall, and there have been calls for the company, which only listed a small percentage of its shares, to release more.
Kennedy noted that Tilray's IPO was just two months ago, although he added that he's always looking for ways to raise capital.