China Wants to Make the World's Fastest Bullet Trains Even Faster
(Bloomberg) -- Already the world's fastest, China's bullet trains are set to roll even faster if the Asian country has its way.
China Railway Corp. is studying measures to further increase the pace of its high-speed trains, according to Qi Yanhui, a deputy head at the technology and information department of the state-owned operator. A new generation of locomotives that debuted last year reached about 350 kilometers (217 miles) an hour, making them the world's swiftest trains serving long-distance routes.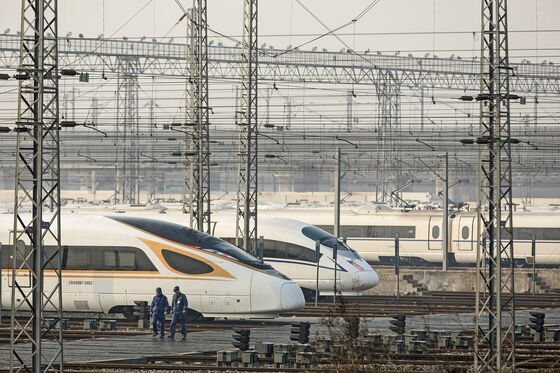 "There's definitely a plan, but it's hard to tell when," Qi said at a media briefing Monday in Beijing, adding any increase in speed would need substantial tests and should be justified by demand.
China, with the world's biggest high-speed rail network at 25,000 kilometers, has become a testing ground for futuristic transportation. Car billionaire Li Shufu's Zhejiang Geely Holding Group teamed up with state-owned China Aerospace Science and Industry Corp. last month to explore the concept of "supersonic trains." California-based Hyperloop Transportation Technologies Inc. has also set up a joint venture in Guizhou, a mountainous province in southwest China, to build a test track for superfast trains.