World's Cheapest Renewables Will Aid India's Push to Net Zero
(Bloomberg) -- India has an ace up its sleeve to help reach its surprising announcement to zero out emissions by 2070: some of the world's cheapest renewable power.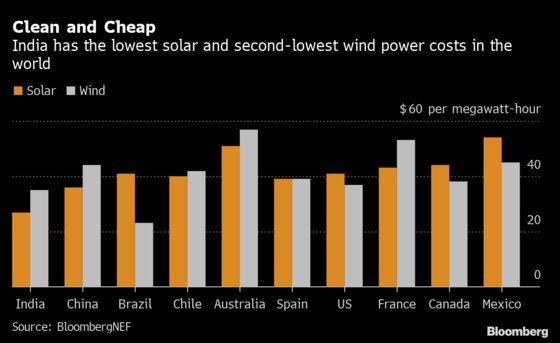 Abundant land, cheap labor and reliable sunshine and breezes make India home to the lowest-cost solar power and second-lowest onshore wind among 54 countries covered by BloombergNEF's analysis of levelized costs of electricity. The South Asian nation is forecast to be the third-biggest installer of new solar capacity this year, and number four for wind.
Still, it won't be an easy transition for India, which still gets more than 70% of its power from coal and would need to more than triple the 142 gigawatts of renewable electricity installed at the end of 2020. Prime Minister Narendra Modi raised the nation's 2030 target for low-emission energy capacity to 500 gigawatts from 450 gigawatts in the same speech at COP26 in which he announced the 2070 target.