Global Cleaning Giant to Get Rid of 100,000 Jobs
(Bloomberg) -- ISS A/S of Denmark, which is one of the world's largest private employers, is planning to get rid of about 100,000 jobs as it exits 13 countries that were among its least profitable markets.
The move represents about a fifth of the company's global workforce. Shareholders will get at least a quarter of as much as 2.5 billion kroner ($383 million) in anticipated net proceeds, Chief Executive Officer Jeff Gravenhorst said by phone on Monday.
The countries ISS plans to leave are mostly in emerging markets, including Asia and Eastern Europe. At the same time, the company wants to do more business with so-called key accounts, such as global banks.
Though shares fell as much as 3.3 percent after investors learned of the plans on Monday, analysts said ISS's new strategy was good news for the company's longer term prospects.
"The market tends to be a bit short-sighted these days," Sydbank analyst Mikkel Emil Jensen said. What ISS is doing is "investing more in stable margins long-term, rather than higher margins." That includes spending money here and now on "things like robots" to keep up with the latest technology in the industry, he said.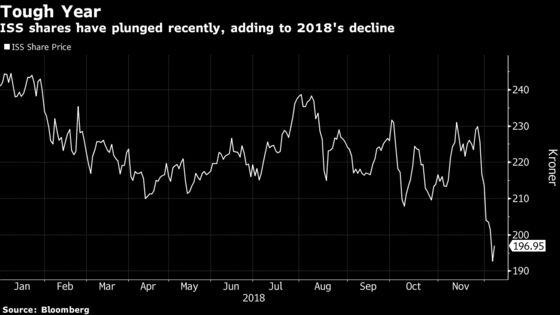 ISS, which aside from cleaning offers services such as catering, property maintenance and security, is leaving countries that represent just 12 percent of its group revenue and 8 percent of operating profits. The plan means the company will no longer do business in Thailand, the Philippines, Malaysia, Brunei, Brazil, Chile, Israel, Estonia, the Czech Republic, Hungary, Slovakia, Slovenia and Romania. After leaving those markets, ISS's workforce will shrink to about 390,000 people, it said.
CEO Gravenhorst said ISS wants to focus on getting a larger share of the $400 billion global market for key accounts with the biggest corporate customers. That business accounts for 46 percent of the company's organic growth, with ISS currently sitting on about 2 percent of the key-account market, he said.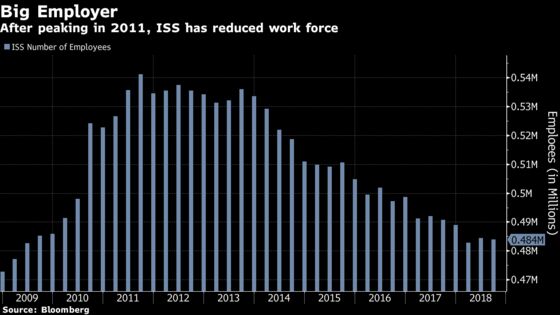 "The fact that they plan to shed 50 percent of clients while only losing 12 percent of turnover and 8 percent of profits shows they're getting rid of a group of customers with limited growth potential," Jensen at Sydbank said. "I find it somewhat hard to understand that the shares are down."
Copenhagen-based ISS expects organic growth to accelerate to 4-6 percent a year "in the medium term," from 1.5-3.5 percent expected in 2018, it said in a statement.
World's Biggest Cleaner Is Hit by Record Hedge Fund Attack
ISS, which is one of Europe's biggest employers, is taking the drastic steps after its shares lost about 18 percent this year, in part as hedge funds speculated against the company. The new strategy also comes after signs that some analysts were starting to question ISS's prospects. Though most had been positive, Goldman last month told clients to start selling ISS shares.