With New QX60, Infiniti Finally Has a Luxury SUV You'll Remember
(Bloomberg) -- On June 23, Infiniti debuted the new iteration of the bestselling vehicle in its lineup, the 2022 Infiniti QX60.
Unveiled in an online event hosted by actress Kate Hudson, the next-generation QX60 introduces new creature comforts to the line, including ambient lighting, a panoramic sunroof, and quilted leather "zero gravity" climate-controlled front seats. It also offers a new all-wheel-drive system, nine-speed transmission, and increased seating and towing capacity.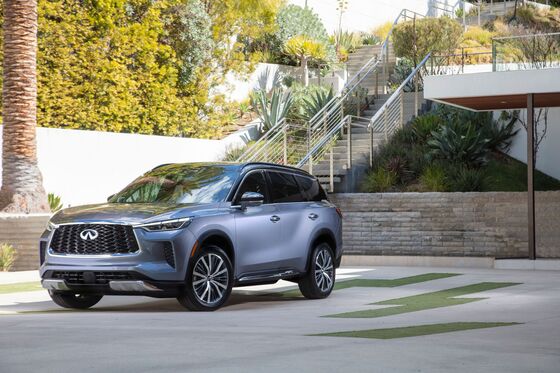 More important, the three-row SUV looks good enough to be memorable, an essential element for a vehicle that contributes 30% of all Infiniti sales worldwide. In test drives, previous offerings like the QX55 and QX50 SUVs have proven capable but bland, even forgettable. Those $50,000 rigs have done no favors for Nissan's 32-year-old luxury vehicle division, which has struggled to establish an identity that can keep it from being lumped in with Toyota's Lexus, Hyundai's Genesis, and Honda's Acura divisions.
"The previous QX60 was a bit of a crossover; this one is a bit more authentic [to the shape of an SUV] in its silhouette," Alfonso Albaisa, senior vice president for global design for Nissan Motor Co., said during a video call with reporters. "It is a sense of simplicity, a sense of Japan, a sense of adventure, a sense of scale."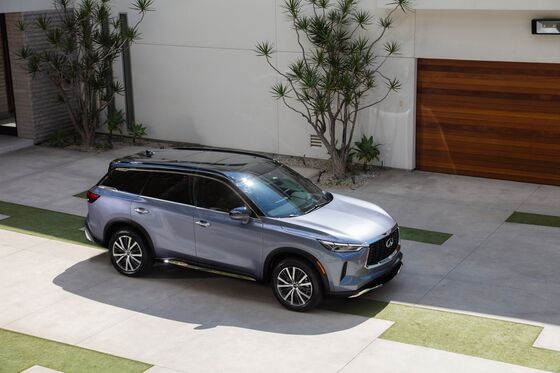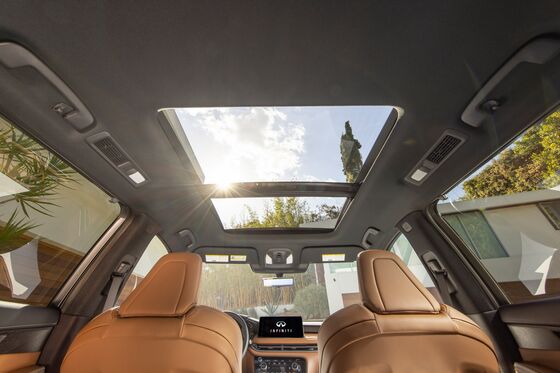 The QX60 has a higher ride height than its predecessor, with a wide, compressed honeycomb grille, gently swooping sides, and crisp headlights with front details that look folded, like the lines of a kimono. It takes cues from higher-priced SUVs with longstanding design heritage; with the badges removed, the roof and strong, clean lines of the rear portion could lead it to be mistaken for a Range Rover Velar from some angles.
Having a stunner of an SUV—part of the most profitable and strongest market segment (including pickup trucks)—could spell a turning point and put the beleaguered Nissan Motor Co. in a much-needed bright spot. On June 22, Nissan Chief Executive Officer Makoto Uchida promised uneasy shareholders a turnaround at Nissan Motors, which has already projected a third year of losses for the fiscal year ending in March 2022. (Its Infiniti division has fought the generalized failure since 2019 by rotating senior executives to steady its growth.)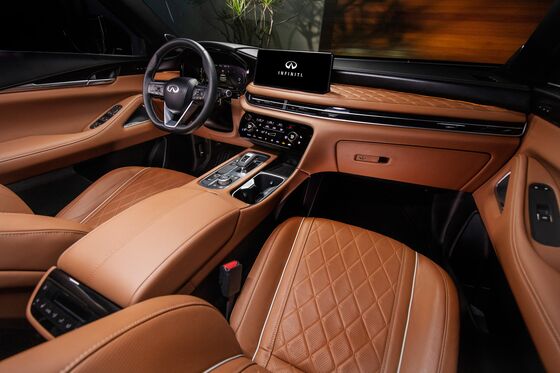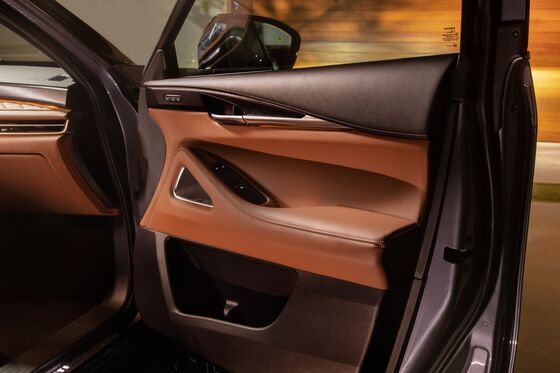 Nissan has faced momentous struggles since 2018, when authorities in Japan arrested former Chairman Carlos Ghosn and charged him with financial misconduct. Ghosn jumped bail to flee to Lebanon in late 2019. A representative for Infiniti said during a June 14 call with reporters that the brand has experienced no challenges related to Ghosn's alleged criminality and was focusing exclusively on its new SUV: "That happened years ago," they said. 
The QX60 will be the first to carry Infiniti's newly developed design language, which will eventually permeate the entire brand. Pricing will be announced in July, with deliveries to North American dealerships in the fall.