World-Beating Transition Sees Australia Plan for Life After Coal
(Bloomberg) -- Five years ago Australia got just a 10th of its power from the wind and the sun. Now it must rush to prepare its creaking grid for 2025 -- when renewable generation is set to hit 75%.
The country is tackling a challenge faced by energy planners across the globe: how to manage the transition to clean energy while keeping the lights on and costs down.
The sun-kissed nation is already one of the world's strongest adopters of solar and wind power, and the market operator expects capacity to grow by a further 60% by 2025. The problem is how to incorporate generation that fluctuates depending on weather conditions into a system built on the steadier flow provided by coal-fired plants.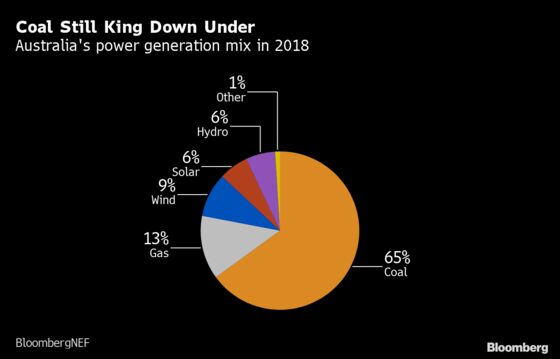 "Australia already has the technical capability to safely operate a power system where three-quarters of our energy at times comes from wind and solar energy generation," AEMO said in a report on Thursday. However, the operator might be forced to limit that contribution to as little as 50% unless changes are made to the market's structure and regulation.
AEMO is calling for investment in new transmission lines to connect clusters of renewable generation to the network, and market reforms that place greater value on services that bolster system security. It's also looking at ways to maximize the contribution of household solar, in a country where around one in four homes has rooftop panels.
Clean energy investment stalled in 2019, following a number of boom years, as grid limitations started to have a major impact on the profitability of wind and solar facilities. Security issues caused AEMO to order the curtailment of as much as half the output of five solar farms last year, with the restrictions only recently lifted.
"The wave of renewable energy investment that crested across Australia in 2017 and 2018 has truly entered it's trough," said Leonard Quong, head of Australia research at BloombergNEF. "We expect issues on Australian grids will only get worse before they get better - unless they undergo substantial regulation changes, interconnection upgrades and business model innovations."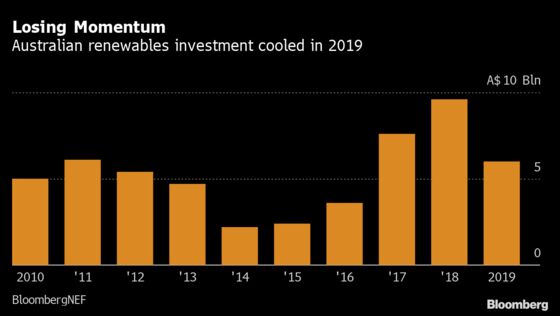 AEMO was on the right track in terms of identifying and solving the technical challenges facing the grid, but changes would take time to implement, Quong said. In the meantime, investors are likely to approach the sector with caution.
"Not all renewables deals stack up," said Deanne Stewart, chief executive officer at First State Super -- one of the country's biggest pension funds. First State in December took a stake in the Snowtown 2 wind farm in South Australia, it's first major investment in the sector, but Stewart acknowledged that policy uncertainty and grid congestion were hampering the industry. Clarity over those issues would open up "lots of opportunities over the next five years," she added.
The government, which is a strong advocate for the fossil-fuel industry, said AEMO's report underlined the need for intermittent solar and wind power to be backed by steadier sources of electricity. It also highlighted the need for sufficient inertia from conventional plants, which helps grid operators smooth over frequency changes and is a key tool in helping balance supply and demand.
"The AEMO study recognizes solar and wind generation alone aren't enough," said Energy Minister Angus Taylor. "Minimum levels of inertia that is ordinarily provided by synchronous generation – such as a gas-fired power station – will be crucial to maintaining the security of any large power system."
Energy storage will also play a key role in the transition. The government is backing the multibillion dollar Snowy pumped hydro project, expected to start in the latter part of the decade, and is also supporting the so-called "Battery of the Nation" plan to make better use of the abundance of hydro and renewable power in the island state of Tasmania.