Workhorse Sinks 52% in Two Days After Losing USPS Award
(Bloomberg) -- Electric-vehicle maker Workhorse Group Inc. shares plummeted on Wednesday, extending its decline to about 52% in two trading sessions, after losing out on a key contract from the U.S. Postal Service.
Workhorse shares have now wiped out all their gains since late June as the stock dropped as much as 18% to $13.54 in New York. It posted its steepest decline in almost a decade on Tuesday after a key government contract that some had expected it to win went to rival Oshkosh Corp. instead.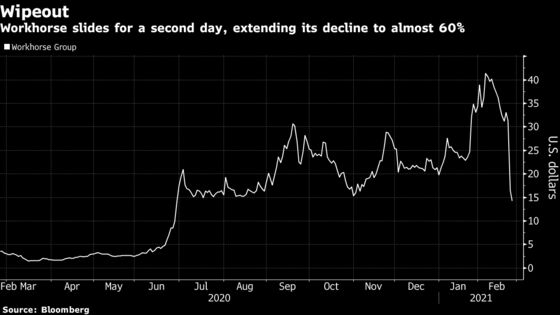 The news came as a "shock," Cowen analyst Jeffrey Osborne said. While the analyst had not factored in a contract win in his model, he had expected Workhorse to play a role, given the U.S. administration's recent stance around zero emission government fleets. Osborne maintained his buy-equivalent rating on the stock but lowered his price target to $18 from $25.
"While investors are clearly shooting first and asking questions later, we believe that Workhorse could present a compelling entry point following the about 50% sell off," he said in a note.
Not all analysts are recommending buying the stock. Oppenheimer's Colin Rusch lowered his rating on the stock to the equivalent of a hold from buy, saying estimates on the company now need to come down with USPS trucks coming out of forecast models and as the availability of battery packs remaining challenging.
"We are now expecting the company to turn Ebitda positive in 2023, a year later than we previously anticipated," he wrote in a note to clients.
Workhorse in a statement earlier on Wednesday said it has requested additional information from the USPS and is waiting for a response. The company intends to explore all avenues that are available to non-awarded finalists in a government bidding process.
Trading volume in Workhorse shares jumped to more than six times the 20-day average. Earlier, a block of 1.7 million of the company's shares traded at a market value of $23.8 million. According to data compiled by Bloomberg, the company has eleven holders with at least 1.7 million shares, including Blackrock Inc., Vanguard Group Inc., Seaport Global, Cathie Wood's ARK Investment Management and Workhorse board member Benjamin Samuels.