Woodford's Woes: Here Are the Investor's Biggest Losers
(Bloomberg) -- Neil Woodford has not had much luck since going out on his own.
The suspension of redemptions from his LF Woodford Equity Income Fund on Monday comes after a tumultuous three years, in which the flagship fund fell about 6% as U.K. picks including Provident Financial Plc and Capita Plc went bad. Losses have been increasingly pronounced over the past year, which saw the fund fall about 18% amid huge declines for domestic investments such as Kier Group Plc.
Woodford, who built his reputation as a star fund manager at Invesco Perpetual, left that firm in 2014 to set up his own shop. The manager, who is also known for a bullish stance on Brexit, initially maintained his winning streak as the fund returned 16% in its first full year, before his focus on U.K. stocks turned sour.
Below is a look at some of the biggest losers among stocks Woodford held in his funds in recent years. All of the stocks listed are ones Woodford has invested in over the past five years.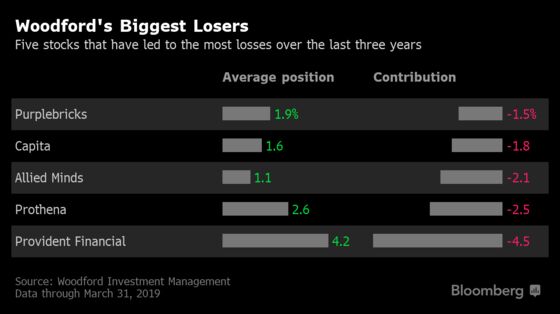 Woodford's Biggest Losers
Shares down 84% since holding disclosed on April 5, 2018
The U.K. construction firm has had a torrid time in the past 18 months. Its woes came to a head in November 2018 when it came cap-in-hand to shareholders via a rights issue to shore up its balance sheet. Just yesterday, its problems were brought back into sharp focus when it warned on profit and said trading conditions remain sluggish, sending shares down 41% to a new record low.
Shares down 83% since stake disclosed on June 24, 2014
Woodford stayed loyal to the U.K. outsourcing firm whose customers include the U.K. government as well as retailers like Marks & Spencer Group Plc, even adding to his holding after a profit warning in 2016 that would precede an 80% share slump to date. Capita was forced to halt its dividend and conduct an equity raise last year as its debts mounted and customers scaled back contract outlays due to Brexit uncertainty.
Shares down 79% since holding disclosed on April 17, 2015
The U.K. sub-prime lender was a pariah among U.K. stocks in 2017 when it revealed a regulatory probe, warned on profit and saw its chief executive depart all in one fell swoop. All that sent its shares down 66% in a single session. Since then things have improved and it is in the process of being acquired by rival Non-Standard Finance Plc, albeit in a deal attracting regulatory scrutiny and some shareholder opposition.
Shares down 74% since holding disclosed on Sept. 2, 2014
The early-stage investment outfit saw its share price plunge following a move in 2017 to dispose of seven subsidiaries as part of a wider restructuring prompted by writedowns on the value of several investments. The shares haven't really recovered and, since listing in June 2014, they have lost around 59% of their value.
Shares down 58% since stake disclosed on June 25, 2014
Woodford bought a few million shares of the Dublin-based, U.S.-traded biotech back in 2014, and now has about 12 million shares or a stake of almost 30%, according to data compiled by Bloomberg. It rallied sharply during the first few years of Woodford's investment, but is now worth less than half the price Woodford paid for his initial shareholding. The company's key drug, used to treat a dangerous build of protein deposits, has faced development delays.
Shares up 2.6% since stake disclosed on Dec. 23, 2015
Woodford hasn't lost on Purplebricks, but he could have gotten out sooner. He reported a 29% stake days after the online estate agent's initial public offering in late 2015. The stock's value increased four-fold in its first few years of trading, but it's plummeted since, as questions were raised over a business model that charges clients a flat fee whether or not a sale is made. Amid an uncertain domestic property market, the firm has also had to scale back its international operations, and its founder said goodbye last year with the stock languishing just above its IPO price.