With Suez Canal Shut, a Dozen Ships Sail the Long Way Around
(Bloomberg) -- Supply Lines is a daily newsletter that tracks trade and supply chains disrupted by the pandemic. Sign up here.
Wait it out or change course?
With the Suez Canal expected to remain out of commission until next week, shippers are facing a tough choice: sit idle, for who knows how long, or take the long way around Africa, adding about 6,000 miles (9,650 kilometers) to the journey.
Here are the ships that have already changed course.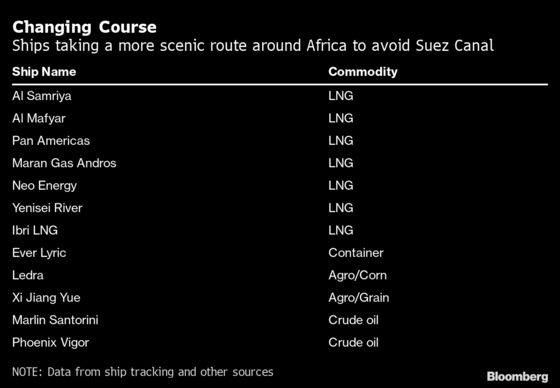 The bulk carrier Xi Jiang Yue in the Atlantic was, until this morning, steaming for Port Said, near the Suez Canal. On Friday it changed its destination to Nan Sha, China, according to ship tracking data compiled by Bloomberg. The grain-carrying vessel loaded its supplies in Louisiana.
But there's at least one ship that may still be undecided. Oil tanker SC Mercury, which carries chemical or refined products, is sitting off Gibraltar after initially indicating Suez as its next destination, a sign that it may be considering a new route.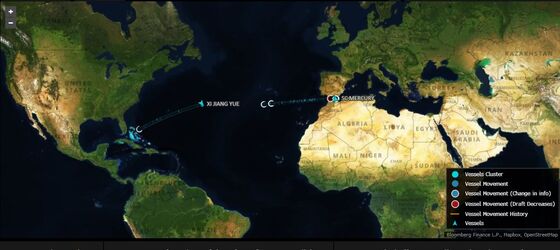 At least for now, most ships appear willing to wait it out. About 300 vessels remain in a holding pattern, outside the Suez Canal.
Suez Canal Logjam Nears 300 Ships as Salvage Efforts Drag On
Multiple Ships in the Indian Ocean Detour Away From Suez Canal
Suez-Bound Supertanker Diverts to Fujairah After Canal Blockage