With Scandal Fading, Colombia Reboots Roads and Airports Plan
(Bloomberg) -- International investors are piling into Colombia infrastructure projects, providing debt and equity as the South American nation, rebounding from its biggest corruption scandal in decades, prepares to build a series of highways and airports.
British infrastructure giant John Laing Group Plc, U.S.-based asset manager BlackRock Inc., and state-owned China Harbour Engineering Co. are among the foreign firms that are buying stakes in roads, building public transportation lines, and providing debt.
The sector is drawing renewed interest from investors around the globe, said Alex Yew, managing director for Latin America at London-based John Laing, which invests equity in projects. "As their home markets slow down, they're looking and seeing that everyone is in Colombia. So they're kind of rushing in," he said.
The rebound comes three years after a corruption scandal centered around Brazilian contractor Odebrecht SA brought the sector to a standstill. The government has lined up fresh financing for stalled projects and is preparing an ambitious pipeline of roads and airports that it will release over the next two years, Transportation Minister Angela Maria Orozco told investors recently.
That includes at least 10 new highway projects, which the government estimates will cost an estimated $4 billion, according to a Transportation Ministry presentation seen by Bloomberg. The government's National Infrastructure Agency said it aims to start the bidding process for eight projects in the first half of 2020.
Foreigners have been joined by local construction companies, which are selling their stakes in nearly completed roads and planning to use those profits to invest in new highways. Stakes in projects worth an estimated $3 billion have been put up for sale.
Representatives for BlackRock and China Harbour Engineering declined to comment.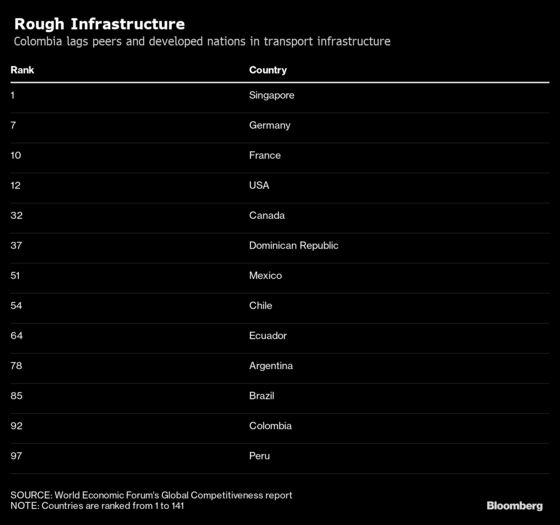 The country of nearly 50 million is split by Andes mountain ranges that make construction difficult and costly. It ranks 92 out of 141 nations in transport infrastructure, behind countries including Nepal and Mali, according to the World Economic Forum's Global Competitiveness report. It will need tens of billions of dollars in funding for roads in the next two decades, according to Global Infrastructure Hub, a G20 initiative that tracks the sector.
The government's $18 billion highway construction plan, known as 4G, came to a halt in the wake of the Odebrecht scandal. The company reached a settlement in 2016 with U.S. and Brazilian authorities in which it admitted to paying $788 million in bribes to win contracts across Latin America, including a section of a highway in Colombia. Investors pulled back over concerns of potential liabilities and damage to reputations.
The government has moved to restart the 4G program, which has also been slowed by problems with land acquisition, environmental licensing and social resistance, according to Fitch Ratings. About three-fourths of projects are now under construction, Fitch said.
The government will have financing in place for a total of 19 projects, according to the FDN development bank. Foreign banks are upping their participation in the projects, supplying about one-third of the 25 trillion pesos (about $7.5 billion) in funding this year, according to the bank.
"Unlocking the 4G pipeline was a smart move because it gave the market confidence that it's not just about pie-in-the-sky projects," John Laing's Yew said. "It's a pipeline that is being delivered."