Bets Are Mounting on a Rebound in the Rand
(Bloomberg) -- After a difficult May for emerging-market currencies, some investors are positioning for a rebound in South Africa's rand.
The currency declined about 2% against the dollar last month amid the deepening trade war and concerns the global economy is heading for a significant slowdown. However, it failed to weaken beyond 15 per dollar and may now push back below 14, according to Nedbank Group Ltd. The rand gained 0.6% to 14.49 per dollar by 2:48 p.m. in Johannesburg.
It appears that the dollar's "current bull phase is losing momentum," Neels Heyneke, a Johannesburg-based strategist at Nedbank, who had targeted the rand weakening to 15.46, said in a note to clients. A sustained move below 14.43 per dollar could see the rand heading to 13.84, he wrote.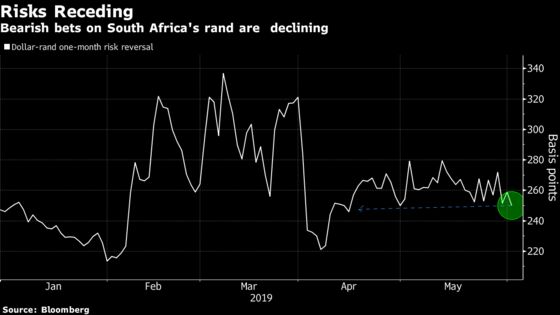 Meanwhile, traders are reducing bearish bets. The premium of options to sell the rand against the dollar over those to buy it in the next month, known as the 25-Delta risk reversal, narrowed on Monday to the lowest since mid-April, before South Africa's general election.
And in another sign sentiment is swinging, hedge funds have boosted net long rand-dollar positions to 2,475 contracts in the week ended May 28, the highest in nine months, U.S. Commodity Futures Trading Commission data show.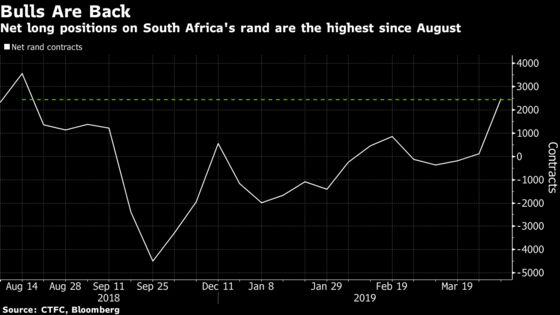 The median forecast of economists in a Bloomberg survey puts the rand at 14.09 per dollar by year-end, an appreciation of about 3%. The options market gives odds of three out of four the rand will reach that level, according to Bloomberg's probability calculator.