As Bank Shares Burn, Here's What CEOs Are Telling Investors
(Bloomberg) -- U.S. banks took one of their worst beatings in years as investor concerns over global trade and interest rates reignited Tuesday.
The stock decline came just as chief executive officers gathered at one of the industry's biggest annual conferences, passing a microphone to update shareholders on business. Inside the Manhattan venue booked by Goldman Sachs Group Inc., there was little mention of the panic unfolding in markets -- until Blackstone Group LP CEO Stephen Schwarzman quipped that the scene is a "barf burger."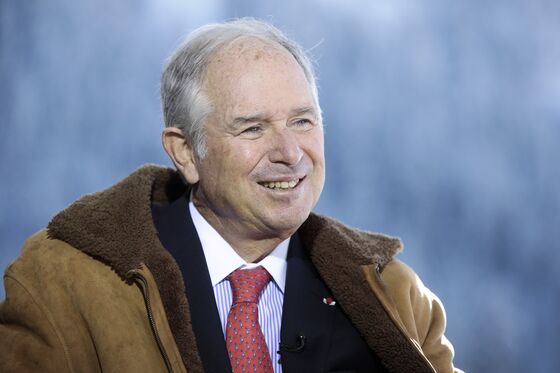 The KBW Bank Index fell 4.9 percent, its worst performance since February.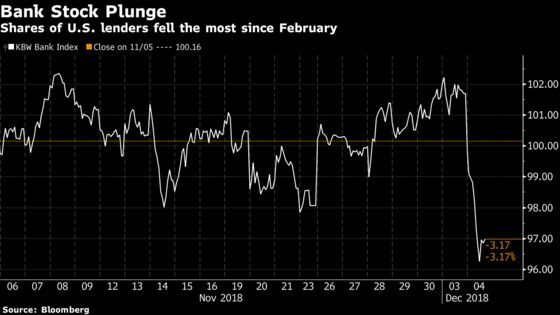 Yes, some bank CEOs said, there are reasons to doubt the U.S. and China are on the brink of an agreement to avert a trade war. But they also laid out bright spots at home, emphasizing that the economy is strong while trying to make a case that it's better to buy or hold -- not sell -- their stocks. Here's the rundown:
"There's no way" the Trump administration and China will hash out a complex trade agreement in just 90 days, according to Jamie Dimon, who as JPMorgan Chase & Co.'s CEO runs the largest U.S. bank. His comments came after Donald Trump's top economic adviser, Larry Kudlow, dialed back the president's earlier tweet on a deal to reduce tariffs on U.S.-made cars. Dimon said he's hoping authorities will announce progress in weeks ahead.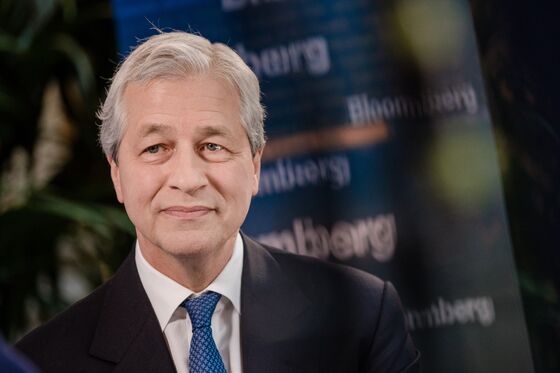 Meantime, don't obsess about "the market ebb and flow on a given day based on the progress or perceived progress of talks," Bank of America Corp.'s Brian Moynihan told investors.
A flattening or inverted yield curve can erode revenue from loans by making it harder for banks to profit by using short-term borrowing to finance long-term lending. But Moynihan said the debate is still open over whether the current trend is signaling an economic downturn.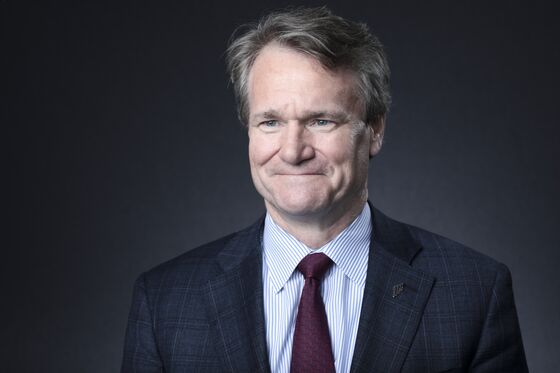 "We believe it's because the economy is strong," he told CNBC in an interview. The Fed is removing monetary accommodation, which puts pressure on the long end of the curve, he said. But banks such as his can lean on their vast deposits to profitably finance loans and continue to boost revenue, he said.
Still, Wells Fargo & Co.'s Tim Sloan delivered some bad news on that front: His bank expects to collect $12.6 billion in interest in the fourth quarter, below the $12.8 billion average of analyst estimates compiled by Bloomberg. Retail deposit pricing remains stable, he said, but there's strong competition for deposits from companies and wealthy customers.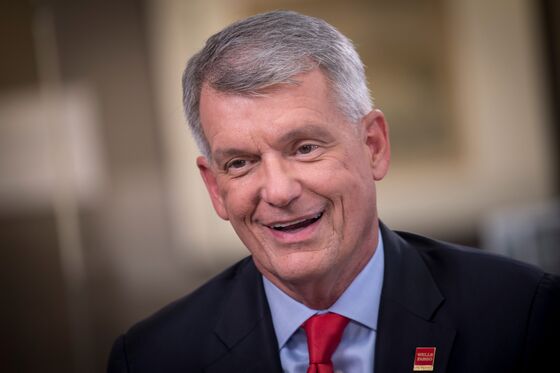 Sloan and Dimon both flagged the general indebtedness of consumers. Sloan said that trend may help earnings, as banks see more people hold balances on their credit cards, which generates interest as long as customers keep up with their obligations. "We're not really seeing any sort of cracks from consumer delinquency or consumer loss standpoint in any of the product types," he said.
Dimon, meanwhile, expressed concern about people carrying massive student loans. But consumer and business confidence are still close to all-time highs, he said, "so it looks like we're doing fine."
Dimon said he expects JPMorgan's technology budget will keep increasing, though "hopefully less than revenues." The bank earmarked about $10.8 billion for tech in 2018, with about half of it going to new tech, platforms or data, with the rest maintaining existing systems.
Wells Fargo will spend about $9 billion on technology this year, including $800 million on its efforts to improve cybersecurity, Sloan said. Moynihan expects Bank of America's spending on new technology will flatten.