Heart Pump With Wireless Charging Implanted by Kazakh Doctors
(Bloomberg) -- Doctors in Kazakhstan said Wednesday they had successfully implanted a mechanical heart pump charged wirelessly by an Israeli device, a development aimed at improving life for very ill patients awaiting transplants.
The operation was performed in December at the National Research Center for Cardiac Surgery in Astana, the Israeli technology company Leviticus Cardio said in an emailed statement.
"The patient has been discharged from the hospital and is back leading a normal life," the company said in the statement. It called the device a "game changer for anyone suffering from severe heart failure."
A video released by the company shows the patient, Ismail Tursunov, working out in a gym and then going swimming.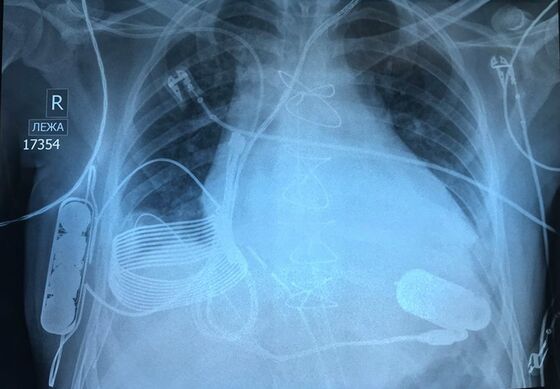 Cardiovascular diseases kill 17.9 million people every year, accounting for 31 percent of all global deaths, according to the World Health Organization. These diseases – which primarily manifest as heart attacks and strokes – are triggered by tobacco use, unhealthy diet, physical inactivity and harmful use of alcohol, the organization says. Direct medical costs in America related to the chronic heart failure patients that would benefit most from the new technology are projected to nearly triple to $45 billion in 2035 from $18 billion today.
Mechanical pumps, which the new device was developed to charge, are used for patients whose lifespans are measured in days or months rather than years or decades. Until now, the pumps have been charged by a power cord -- called a drive line -- that sticks out from the patient's abdomen and is connected to batteries or plugged into an electrical outlet. Patients must always have backup batteries on hand, as they have only about 15 minutes to replace them in case of power failure. The drive line has also been a vector for infection.
The new device, worn as a vest, uses what Leviticus Cardio calls "coplanar energy transfer" to wirelessly power a heart pump produced by Jarvik Heart Inc. It allows patients to walk around freely for as many as eight hours a day, and has a back-up system for traditional charging -- a socket behind the ear, essentially -- if the wireless system fails.
The Journal for Heart and Lung Transplantation, in a report published this week, called the implant the "first known human experience with this novel technology."