Wirecard Drops on News Report Suggesting Accounting Misdeeds
(Bloomberg) -- Wirecard AG fell the most since February in Frankfurt after a news report said it found repeated questionable accounting practices at the German payments firm.
Wirecard fell as much as 23% in early trading after the Financial Times said it's published internal company documents and correspondence that "appear to indicate a concerted effort to fraudulently inflate sales and profits" at businesses in Dubai and Ireland.
"This is total nonsense," Iris Stoeckl, a spokeswoman for Wirecard, said by phone. "All our numbers have been audited." In a further emailed statement, a spokesperson from Wirecard said the company "categorically rejects these allegations of impropriety."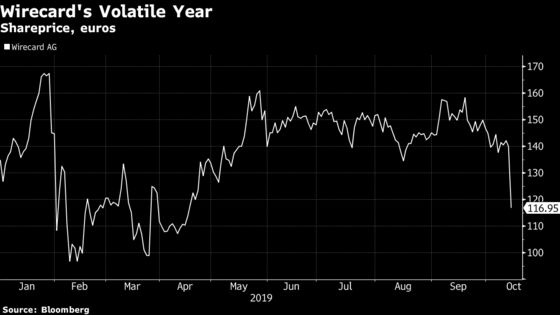 Wirecard has been trying to move on from a series of Financial Times reports on suspicions of fraud at some units in Asia that caused the firm's shares to whipsaw early this year. The company found accounting quality issues at its smaller software license business and is "over-investing" in getting rid of them, Chief Executive Officer Markus Braun told reporters in April.
The FT's latest investigation focuses on Dubai-based Al Alam Solutions, a Wirecard partner company that, according to the report, contributed half of the company's profits in 2016. The newspaper says it has documents showing that Al Alam processed hundreds of millions of dollars in payments for Wirecard clients in 2016 and 2017.
Yet the FT says it has "strong indications" that much of the processing didn't take place, citing customers that were unaware of Al Alam, denied having links with Wirecard at the time, or had shuttered operations by then.
Wirecard didn't immediately comment further on the allegations related to Al Alam.
Prior to Tuesday's collapse, the stock had recovered as Wirecard formed a $1 billion partnership with Japan's SoftBank in April, won clients including home-improvement retailer Leroy Merlin in Brazil and African airline Royal Air Maroc, and raised its 2019 outlook in August.
Wirecard, a developer of software and systems for online payments and fraud protection used across the internet, got its start in 1999 as a provider of financial services to the gambling and adult entertainment industries. Its technology helps process smartphone payment transactions, issue credit cards, and detect suspicious activity. The firm's revenue soared to 2.1 billion euros ($2.3 billion) last year after it bought at least 18 companies over the space of several years.
Wirecard's newly issued debt also came under pressure Tuesday. Its 2024 fixed coupon bond saw its yield rallying to 3.13% from Monday's close of 0.83%.