Wine Offers Chile a Silver Lining to Trump-Shaped Storm Cloud
(Bloomberg) -- Days after President Donald Trump exchanged the latest blows of an escalating trade war with China, Chilean wine makers are smelling an opportunity.
Producers such as Concha y Toro SA are looking to expand shipments to China after authorities in the Asian giant imposed an additional 15 percent tax on U.S. wines in April in retaliation for U.S. tariffs on steel and aluminum.
It is a small silver lining to a tit-for-tat trade dispute that has slashed the price of copper, which accounts for just over half of Chilean exports and billions of dollars each year in foreign investment. Wine producers want to replace much of the $75.6 million their counterparts in the U.S. exported to China last year, some of it in premium wines, adding to soaring demand from the Asian nation.
"Importers are going to be asking where they can get premium wines at a lower price," Jorge Barros, the commercial director of Chilean Grape Group, the fourth largest Chilean wine exporter, said in a phone interview. "Chile is ready to fill that demand."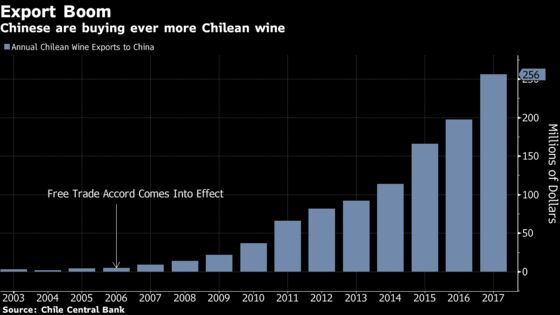 China overtook the U.S. as the biggest market for Chilean wines in 2016, increasing imports by 27.5 percent to $267 million.
Investors are bullish on the prospects for further growth as a weaker currency boosts corporate revenue in dollars. The shares of Vina Concha y Toro have been the best performers this year among members of the benchmark IPSA index with a 16 percent gain, versus a 5 percent loss for the index. The peso has depreciated 5.3 percent in the same time.
China's wine market is expanding fast. Back in the 1990s, China experienced a wine boom with consumption growing 20 percent a year for more than a decade. During this period, luxury wines were popular with government officials exchanging high-priced French Bordeaux between themselves as presents, said Barros.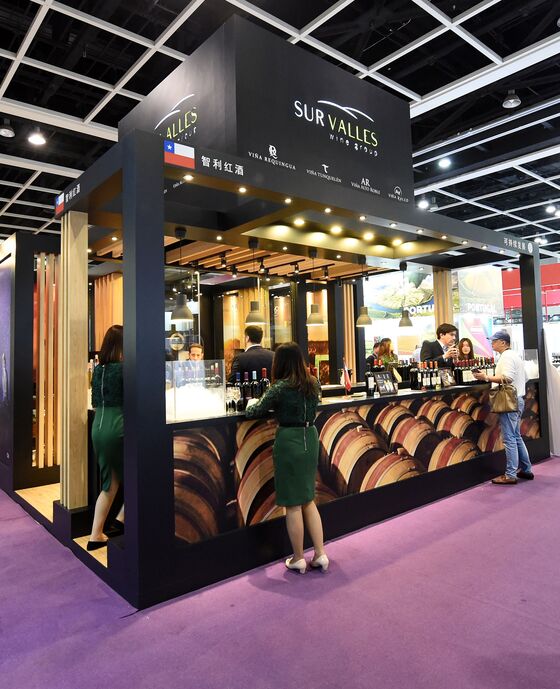 Then President Xi Jinping clamped down on luxury gifts in an anti-corruption campaign in 2012, including premium alcohol. Since then, China's burgeoning middle class has started to drink more wine, and consumption is expected to increase by over one third to $23 billion over the next five years, according to a report by IWSR, a drinks markets analysis firm.
Chile has been quick to cash in, becoming the third largest supplier to the market after France and Australia. Rodrigo Jackson, the Regional Manager of China and Central Asia for Concha y Toro, the largest vineyard owner in the world and the top exporter of wines from Chile, said China is the engine for the industry growth worldwide.
"It's a young market that's developing very rapidly," Jackson said. "France has its history and Australia has been successful in premium wines, but China is the opportunity for Chile to position itself as a premium producer."
The current average price for a nine-liter box of Chinese-imported U.S. wine is $70, compared to just $32 for Chilean wine, according to Intelvid, a wine export database.
Chile's association for wine producers, Wines of Chile, has invested in consumer-focused campaigns to elevate the name -- and price -- of Chilean wines in China. Angelica Valenzuela, the organization's director, said the goal for 2025 is to focus on premium wines worth $60 and up per box.
While she believes the current tariff spats between two main export markets may shift demand in the short term, the focus is long-term positioning for the Chilean brand, Valenzuela said.
"We are working to consolidate Chile as the number one producer of premium, sustainable and diverse wines in the new world," she said.