William Hill's U.K. Troubles Make U.S. Expansion More Urgent
(Bloomberg) -- Weakness in William Hill Plc's home market shows just how much it needs a bet on the U.S. to pay off.
The U.K. bookmaker's shares slid as much as 11 percent, the biggest intraday drop in more than three months, after the report revealed worse-than-expected business in Britain, taking the shine off sports-betting partnerships it announced in the newly-deregulated U.S. market.
William Hill's first-half revenue missed estimates as footfall slowed in the gambling stores that are a fixture of Britain's town centers. Government plans to cut the maximum stake on fixed-odds betting terminals are set to further sap profitability of the stores, making the company's planned U.S. expansion all the more urgent.
"William Hill is seizing its U.S. opportunity because it has to," wrote Peel Hunt analyst Ivor Jones in a note to clients. "Retail is on life support and online is looking a little peaky."
The stock was down 7.7 percent at 269.7 pence in London as of 10:06 a.m.
Here's what analysts think of William Hill's quarterly results
William Hill has been in the U.S. for six years but a Supreme Court decision in May to allow states to regulate sports betting propelled the unit's revenue up 50 percent in the first half of 2018. That business now makes up 5 percent of revenue and Chief Executive Officer Philip Bowcock said he could see it accounting for the majority of sales in future.
"Understanding what the U.S. consumer wants and needs versus the U.K. expertise is where the opportunity lies here," said Bowcock by phone. "They are certainly not as sophisticated as we are. If you're in the U.S., if you're in New Jersey, you haven't been allowed to bet on sports."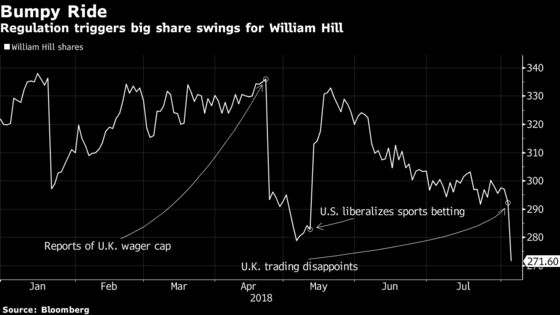 London-based William Hill is forming partnerships with a dozen casinos in Mississippi and West Virginia, adding to existing tie-ups in Nevada and Delaware, and is in talks for deals in another 14 states.
Bowcock said William Hill would introduce simpler betting at first: "The sophistication we have about multiple bets, about in-play markets, about one-minute markets, they don't have."
Irish bookmaker Paddy Power Betfair Plc announced a similar U.S. deal late Thursday, teaming up with Nevada's Boyd Gaming Corp. through its fantasy sports subsidiary FanDuel, which it bought in May. Paddy Power's new partner will operate 29 casinos in 10 states, pending two acquisitions.
The rush will be tempered by each state's individual approach to deregulation: Mississippi will only allow retail and no mobile gaming, while New Jersey is more open. William Hill said it is launching a mobile app "within weeks" that will target New Jersey at first.
Paddy Power shares were little changed at 90.90 euros in Dublin.