Will Three Billionaires Fix France's Telecom Industry?
(Bloomberg) -- The merger music is playing again in France's telecom industry, two years after the last failed takeover attempt.
Consolidation returned as a hot topic when Bloomberg reported in April that Bouygues SA was considering teaming up with investment firms to bid for Patrick Drahi's struggling French business, Altice Europe NV's SFR. Bouygues has since confirmed an approach, without naming the target. Weakness at Xavier Niel's Iliad SA is also prompting market chatter about potential tie-ups.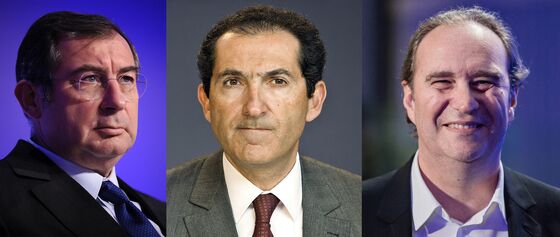 The capital spending required by carriers to offer fifth-generation mobile services could trigger the next wave of deal-making. While France's competition watchdog no longer opposes industry consolidation in principle, there may be little movement until 2019, once the country's telecom regulator has re-allocated some mobile spectrum. 
There are other barriers in the way, too, including the egos of three billionaires—Drahi, Niel and Martin Bouygues—and the dominance of former monopoly Orange SA. Still, the chance to improve profitability in the ultra-competitive French market has executives weighing their options.
Here's how the chips might eventually fall: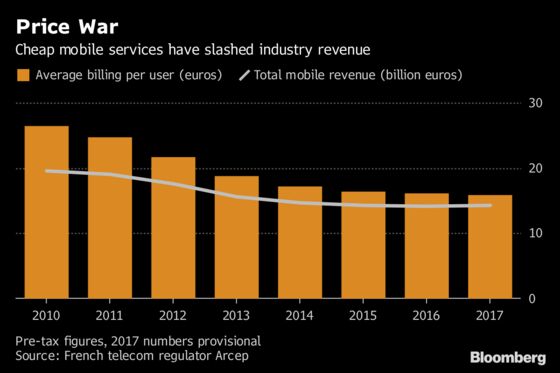 Bouygues Buys Altice's SFR
Why? Drahi has been selling assets to assuage debt concerns but SFR is having to spend heavily to win customers. Bouygues and Altice Europe could reap up to 8 billion euros ($9.3 billion) in synergies by combining their French telecom operations, according to Raymond James analyst Stephane Beyazian. The two have been sharing parts of their mobile networks for more than four years, limiting network overlap. Regulators are likely to approve a Bouygues-SFR deal, said Bryan Garnier & Co. analyst Thomas Coudry.
Why not? Drahi tried to buy Bouygues Telecom in 2015 and might not like the tables being turned. He said in May there was "no chance" he would sell SFR. Bouygues may balk at the 16 billion euros of debt weighing down Altice France – more than Bouygues' own market capitalization. Representatives for Bouygues and Altice Europe declined to comment, while spokesmen for Iliad and Orange didn't immediately respond. 
Orange Buys Bouygues Telecom
Why? There's a certain neatness in replacing the French state with establishment figure Bouygues as Orange's anchor shareholder. It would fit with President Emmanuel Macron's plans to reduce the state's presence in some industries. Orange Chief Executive Officer Stephane Richard has said an industry where two operators out of four fail to generate cash is not financially sustainable. Orange and Bouygues already tried to merge in 2016 but couldn't agree a valuation or the shareholding Bouygues would get in Orange. The government has a 23 percent stake. 
Why not? Dirt-cheap mobile packages launched by Niel in 2012 put former monopoly Orange on the defensive, but CEO Richard has put Orange back on top with low-cost packages, a robust network and stronger finances. Any deal involving Orange would spark close scrutiny by French antitrust regulators and is likely to involve asset sales. It could even be reviewed by the EU competition chief, who has taken a tough line on telecom consolidation, due to Orange's growing European footprint. Richard says he doesn't want to lead the consolidation but could help facilitate it. An Orange-Bouygues deal still leaves arguably the two most troubled players—Altice and Niel's Iliad SA—to fend for themselves, which may not serve the government's interests.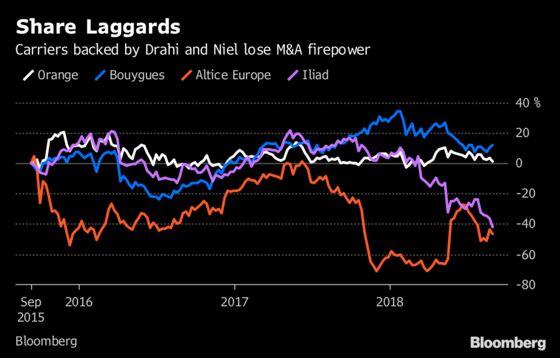 Bouygues or Altice Buys Iliad
Why? Niel's low-cost strategy is showing cracks, with Iliad losing customers on a net basis for the first time ever in the first half. Niel said on Sept. 4 that Iliad still had a bright future but he was "open" to selling a stake in Iliad and would "never say never" if a satisfactory offer presented itself. It was the closest he has ever come to signaling that Iliad could be for sale. 
Why not? While the most obvious buyer might be Bouygues Telecom, ego could get in the way. Martin Bouygues saw Iliad's entry into the mobile market as a disaster and he does not get along with Niel. An Altice-Iliad merger would face funding concerns as both are burning cash and Altice still has a lot of debt. Moreover, investors shouldn't dismiss the chance that Niel could take Iliad private, Oddo Securities warned on Sept. 7. 
Why? The strongest market player may be best-placed to absorb the weakest. They are used to working together: Iliad has leased Orange's network since 2011 in order to provide mobile services to its customers, with the agreement set to end in 2020.
Why not? Orange CEO Richard's insistence that he won't drive the consolidation makes this outcome unlikely. It would probably entail Niel becoming anchor shareholder in Orange and require the maverick entrepreneur to join the business establishment. Orange's influential labor unions may take a dim view of Niel's price-slashing approach.