Why Bill Ackman And Coca-Cola Are Betting Big on Coffee In China
(Bloomberg) -- China's nascent cafe scene is attracting billions in investment from Coca-Cola Co., Internet companies and even high-profile hedge fund managers including Bill Ackman.
Billionaire investor Ackman's Pershing Square fund recently took a $900 million stake in Starbucks Corp. because of its "growth opportunity" in the world's second-largest economy, whose cafe landscape it currently dominates. A month before, Coca-Cola paid $5.1 billion for U.K. chain Costa, which has 400 cafes in China, a figure it wants to triple in the next five years.
Powered by venture capital money from the likes of Internet giant Tencent Holdings Ltd., local start-ups like Luckin Coffee and Seesaw Coffee are aggressively expanding store count in an attempt to challenge Starbucks, which is opening a store every 15 hours in China.
The coffee-shop market in China is projected to grow by 32 percent to 79.4 billion yuan ($11.5 billion) by 2022, from 60.1 billion yuan last year, according to research firm Mintel. But the appeal of coffee in China is driven by factors beyond healthy short-term growth.
A report involving 4,000 Chinese consumers in big cities aged 15 to 49 by research firm Kantar Worldpanel reveals two factors driving bullishness: only a minority of Chinese consumers currently buy coffee, but those who do spend more on average than drinkers in developed coffee markets such as the U.K. and Spain.
"There's a huge gap in consumption between China and other developed markets and that catch-up will bring a lot of additional returns," said Jason Yu, general manager of Kantar Worldpanel in Greater China.
These three charts show why coffee is all the buzz in China now: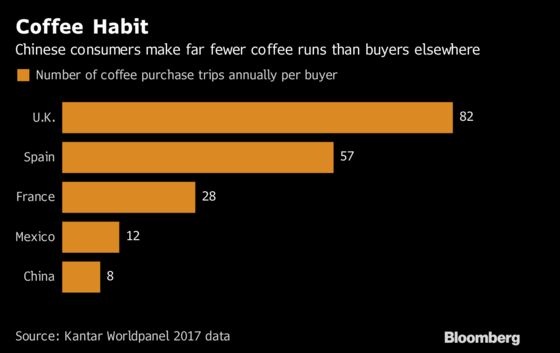 Coffee is not part of traditional culture in China and despite the rapid growth of chains like Starbucks, the average Chinese drinker makes far fewer trips to buy coffee than their counterparts in the U.K. or France. As coffee-drinking becomes more common, growth is likely to accelerate.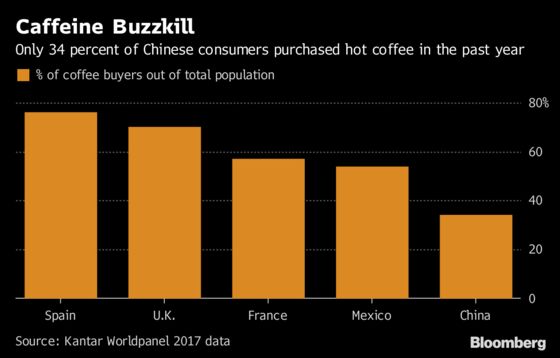 Non-alcoholic drinking occasions in China are still dominated by tea. Only 3 out of 10 consumers purchased coffee in the past year under the report, compared to 7 out of 10 in the U.K. The potential for coffee to catch on is enormous, though Kantar's Yu said the java industry still faces a challenge from tea franchises offering milk and bubble tea products.
"This under-penetration is a double-edged sword," Yu said. "A lot of room for expansion but also a lot of competition."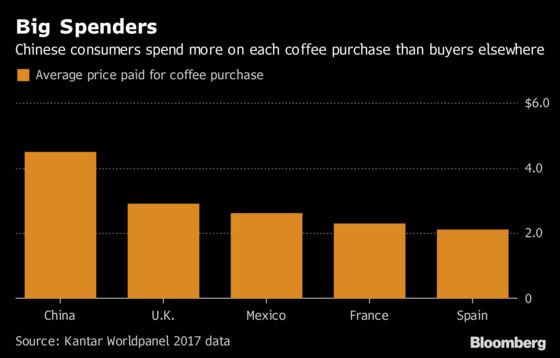 Despite coffee not being an entrenched habit among Chinese consumers, those who are buying coffee spend on average almost twice as much as drinkers in developed markets. This is because coffee culture in China has been essentially created by Starbucks in the past decade. Rather than a quick espresso shot to start the day, Chinese consumers tend to see a coffee purchase as a premium treat for after work or the weekend. They're more likely to spend big on fancy Frappuccinos and the like.
Those high prices could come down as rivals vie for customers, Yu said. "As competition grows, that will also cause prices to drop," he said. "Luckin, for example, will likely compete with Starbucks on price."