Who Tells How Much They Make? Millennials Do, Boomers Don't
(Bloomberg) -- Millennials are almost twice as likely as Baby Boomers to share their salary with their coworkers, according to a new survey from personal finance site Bankrate. They're also more comfortable divulging their pay to other people in their lives, too, with almost two-thirds of those surveyed sharing how much they make with their family.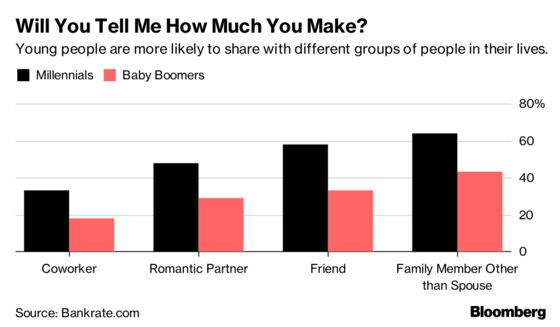 Employers have long discouraged talking about pay among coworkers. It's easier to underpay certain people-- certain groups of people--if they don't know they're being underpaid.
Calls for more fairness in pay, however, have prompted calls for more transparency. Workers want to know more about what goes into their compensation, and they want to know they're getting a fair deal.
Some companies are accommodating them, with approaches that range from the radical, sharing all pay information with all employees, to more general indicators of pay ranges or scales.