Who's Who of Russian Fuel Oil Output as IMO 2020 Rules Approach
(Bloomberg) -- Russia is the world's largest exporter of fuel oil, the residue from oil refining that's mostly used to propel ships or in power generation.
From Jan. 1, 2020, the vast majority of vessels will be forced to curb consumption of the product, under rules set out by the International Maritime Organization. The biggest Russian manufacturers of the fuel, and the principal refineries they use, are detailed below, using data from CDU-TEK, part of the Energy Ministry.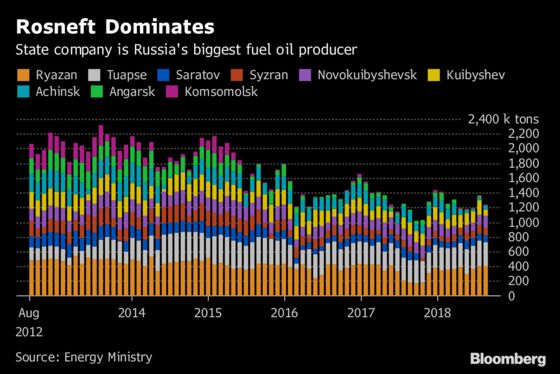 Rosneft is the nation's biggest producer, with its refineries including Ryazan and Tuapse, accounting for more than 30 percent of the nation's total supply. Russia's Energy Ministry reports output from Bashneft, in which Rosneft owns a stake, and the Slavneft joint venture separately.
The state-owned company last week issued tenders to sell oil products in 2019, with fuel oil accounting for about 40 percent of the total volumes available, according to Bloomberg calculations from data posted on the company's website.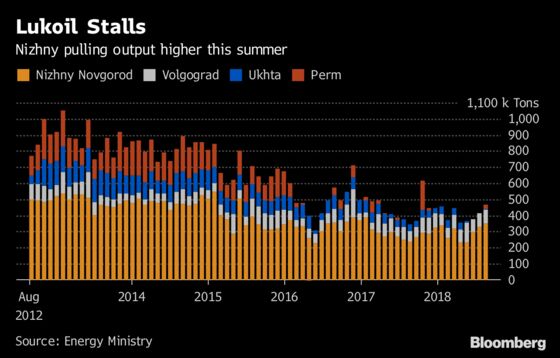 Lukoil ranks behind Rosneft in oil production but usually shares third-place in fuel oil output with Slavneft, having all but eliminated output at Perm.
About 75 percent of Lukoil's fuel oil currently stems from Nizhny Novgorod, where the company is building a so-called delayed coker complex to cut fuel oil output from 2021. That refinery is already sending more fuel to the domestic market, allowing it to reduce exports.
Lukoil mostly ranks behind Surgutneftegas, operator of Kirishi, the refinery that held the top spot in production this year through July. Its output fell in August as some units halted for maintenance.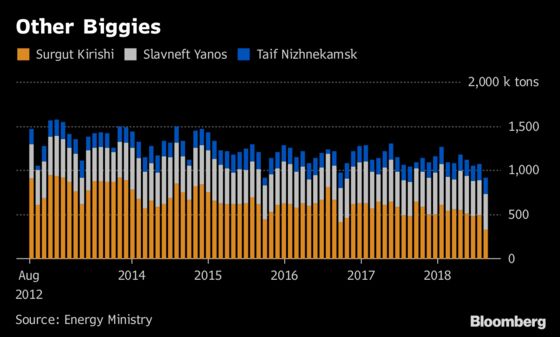 The drop in Kirishi's production pushed Slavneft's Yanos refinery into the top spot in August. Yanos often ranks among the nation's top producers along with Kirishi and Rosneft's Ryazan and Tuapse. Slavneft is jointly owned by Rosneft and Gazprom Neft, which has two big refineries of its own.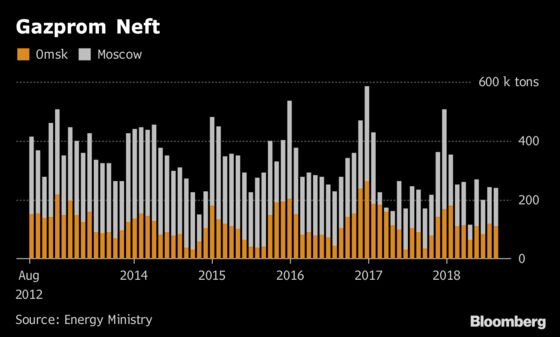 Gazprom Neft's share of production has been stable in recent years and was at about 6 percent in July and August. The company carried out major work at its Moscow refinery at the start of 2017 and is currently working on a project dubbed Euro+ that will eliminate fuel oil production. It will start operations in 2019, Gazprom Neft said by email. It also operates the Omsk refinery.