Democrats Struggle to Replace Climate Plan Manchin Rejected
(Bloomberg) -- Democrats struggled to fill the void created by Senator Joe Manchin's opposition to a key climate program, with hopes fading that Congress will reach agreement on climate legislation before world leaders gather in Scotland for a summit on global warming.
The Clean Electricity Payment Program has been a major priority for the White House and President Joe Biden's goal of de-carbonizing the nation's electric grid by 2035. 
The program, which would pay utilities for using clean energy and penalize those that don't, is on life support after Manchin, a West Virginia Democrat who holds a swing vote in the evenly divided Senate, recently told the White House he wouldn't support it.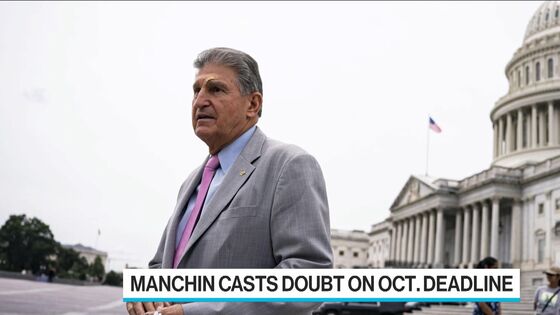 Senator Sheldon Whitehouse of Rhode Island, one of the strongest advocates of climate change legislation in Congress, says he's searching for alternatives to the clean electricity plan. "I've been told it would be prudent to plan alternatives. And be very happy if it is not out," he said Monday.
Environmentalists have urged passage of significant climate legislation, such as the clean power program, before the Glasgow summit that begins Oct. 31. Biden has pledged to reduce U.S. greenhouse gas emissions by 50% from 2005 levels by decades end.
But opposition from Manchin and Arizona Senator Kyrsten Sinema, a fellow Democrat, to elements of a $3.5 trillion spending plan that was to have included the clean energy program have kept it from passing in the closely divided Senate. The House has refused to take up a separate, bipartisan infrastructure package until the bigger spending plan is adopted.
Manchin and Biden spoke on Monday, according to a person familiar with the matter. 
Whitehouse said other provisions slated for the tax and spending bill would also reduce greenhouse gases, including a fee on carbon-intensive products and methane emissions in addition to a bundle of clean energy tax credits. 
Senate Finance Chairman Ron Wyden of Oregon touted his separate emissions-reduction tax credit package as the core of the climate provisions in the broader reconciliation effort, and said he has talked to Manchin about energy policy on a number of occasions.
The White House too is looking at alternatives.
"It's absolutely pivotal that these pieces of legislation have climate components and they will, to address the climate crisis," White House Press Secretary Jen Psaki said Monday. "The good news is there are a range of good ideas and proposals out there from members of Congress about how these legislation can help meet that goal."
Alternatives being considered by the White House and Senate Democrats include a tax on carbon dioxide emissions, including one that could exempt unleaded gasoline, according to two people familiar with the discussions. Other options include expanded loan guarantees for clean energy technologies and a program that would compensate industries for emissions reductions, according to the people, who asked not to be identified discussing confidential deliberations.
Representative Sean Casten, a Democrat from Illinois who co-chairs the New Democrat Coalition Climate Task Force, said renewable energy tax credits aren't a sufficient replacement for the power purchase agreements that would be anchored by the clean electricity program Manchin opposes.
"As a practical matter, if you pass it with the CEPP you have the most impactful climate policy that has ever been passed by Congress and, oh by the way, it's still not enough," Casten said. "If you pass it without the CEPP, it's not really a climate bill." 
Manchin told reporters on Capitol Hill that he's not watering down climate goals and defended his opposition to the clean energy plan.
"We want to make sure we have reliable power," Manchin said. The coal mines "are not going to close."
"The president has an awful lot to take to the Glasgow with him if it, if the infrastructure bill gets done," Manchin said. 
While the clean energy program has drawn attention, environmentalists have emphasized that the spending plan has dozens of other provisions that would drive even greater emissions reductions.
Even without the Clean Energy Payment Program, the U.S. still could still achieve its 50% greenhouse gas emission reduction goal through a host of moves including through an expansion of clean energy tax credits, more stringent vehicle emission standards and state clean-energy requirements, according to an analysis released Tuesday by the Rhodium Group.
"There are a ton of investments and pieces to this," said Matthew Davis, legislative director of the League of Conservation Voters. "If we're losing something big like the CEPP that both cost a lot of money but also delivered a lot of emissions reductions, we cannot lose any others if we want to meet the climate test."