Whitbread's Costa Advantage Could Turn to Froth
(Bloomberg Opinion) -- Whitbread Plc is swapping a skinny flat white for a bargain break.
Chief Executive Officer Alison Brittain agreed in August to sell the Costa Coffee chain to Coca-Cola Co. for 3.9 billion pounds ($5.1 billion). She deserves a lot of credit for obtaining a good price while appeasing activist investors and securing her own position.
As it reported interim results on Tuesday, Whitbread reiterated that it plans to return a significant majority of the net cash proceeds – which it estimates at 3.8 billion pounds – to shareholders, unless there were more opportunities to create value elsewhere. It will announce the exact amount and timing of the capital return in February.
So far, so good. But what was worrying was the group's emphasis on beefing up its Premier Inn hotel chain. In the U.K. it will launch a new brand, called Zip. Rooms will start at 19 pounds a night to tap into the super-budget hotel market, which it estimates is worth 1 billion pounds a year.
Whitbread is also developing its business in Germany, where it plans to have 6,000 rooms by 2021. Brittain says this creates a "foundation stone" for future expansion in Europe.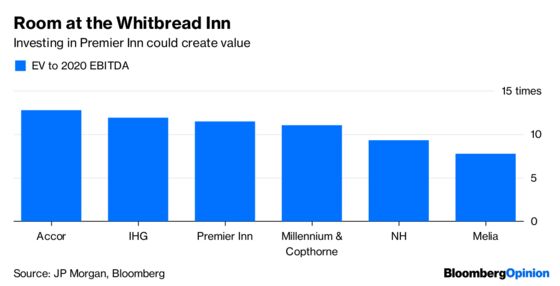 She hasn't specified how much will be spent on this new focus, though the company will give more details in February. While analysts are penciling in a 2.9 billion pound return to shareholders, the risk is that Brittain's new investment plans eat in to these proceeds.
There's another reason why Whitbread – and its investors – should be more cautious.
The company said it had seen some weakness in consumer demand in the U.K. over the summer. While steady weekday bookings indicate resilience in business travel, there was a slowdown in weekend stays. The rising cost of gasoline and intensifying uncertainty over Brexit seem to be dragging down consumer spending.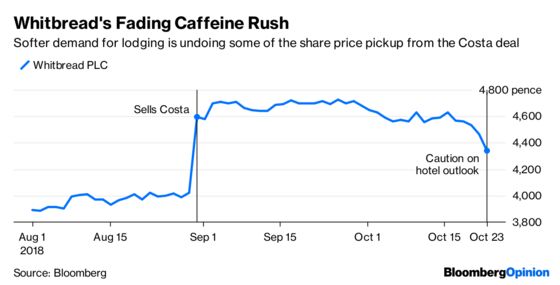 There is some merit in investing in Premier Inn. It has an implied enterprise value to Ebitda ratio of 11.5 times, according to JP Morgan analysts, trailing some big rivals, so there's scope to create value. There's also the possibility that a stand-alone hotel arm could attract a bid from a rival. But given Whitbread's more cautious outlook, it would be wise to proceed with care.
Brittain secured a good deal with Costa, and managed to avoid an ugly row with activists in the process. To keep shareholders from throwing the TV out of the hotel window now, she must show the same level of skill in determining how much of the proceeds should be used to invest, and how much distributed to investors.
This column does not necessarily reflect the opinion of the editorial board or Bloomberg LP and its owners.
Andrea Felsted is a Bloomberg Opinion columnist covering the consumer and retail industries. She previously worked at the Financial Times.