Where Uber's Ugly Debut Ranks Among IPO Sell-Offs of the Decade
(Bloomberg) -- At least it wasn't the worst start ever for an IPO.
After all the hoopla surrounding Uber Technologies Inc.'s $8.1 billion initial public offering, investors in the ride-hailing company must have been less than thrilled as its shares debuted with a resounding thud.
With all eyes on the New York Stock Exchange on Friday, Uber opened at $42 a share, or 6.7% below its $45 IPO price. Within minutes, it slid to $41.06. While Uber briefly clawed back almost all its losses by early afternoon, the comeback ultimately proved to be short-lived. By the time the closing bell rang, Uber shares had fallen 7.6% to end at $41.57.
It was hardly the "pop" that investors may have hoped for after analysts suggested Uber took a conservative approach and priced its IPO on the lower end of its marketed range. And it paled in comparison to archrival Lyft Inc., which saw its shares soar as much as 23% in its debut in March. (Though to be fair, Lyft busted its own IPO price on day two and is now down 29%.)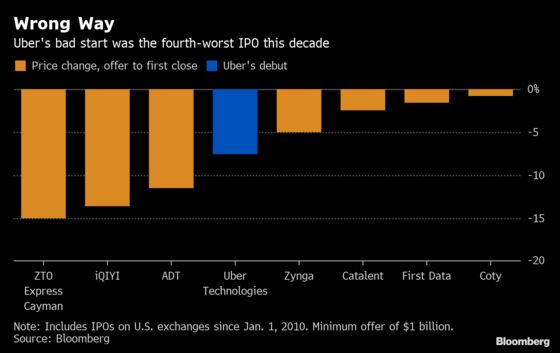 Before Uber's debut, only four company IPOs of a billion dollars or more (out of a total of 60) saw their shares tumble at least 5% since the start of the decade. Just seven ended the first day of trading in the red.
For more on Uber, check out the Decrypted  podcast:
Uber and its lead bankers at Morgan Stanley can at least console themselves for having avoided the ignominious title of the worst U.S. IPO debut of the decade.
They were only the fourth-worst.