Where Have All The Futures Traders Gone? Ask the Hedge Funds
(Bloomberg) -- The slow death of hedge funds is taking down a once-popular derivatives contract with it.
That's one of the theories for why aggregate positions in S&P 500 futures have fallen steadily as a percentage of the index's market cap since the financial crisis. The decline mirrors a fall in e-mini S&P 500 contracts reported by leveraged accounts, according to the Commodity Futures Trading Commission. The category -- leveraged money -- is often used as shorthand for hedge funds and short-term traders.
"Traders reporting under leveraged money has witnessed the biggest drop in share," said Russell Rhoads, head of derivatives research at the Tabb Group. "This could be a function of money fleeing hedge funds, or it could be that managers get more exposure using fewer contracts."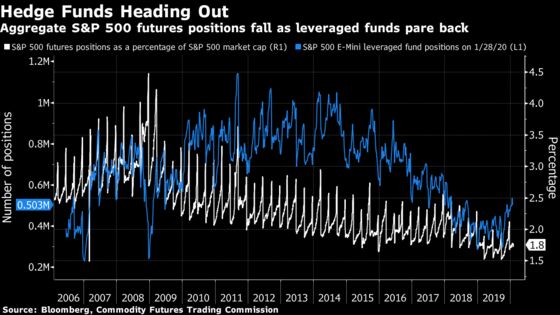 The hedge fund industry recorded more closures than launches for a fifth straight year in 2019, according to data from Hedge Fund Research Inc., with more than 4,000 funds liquidated over that period. Billionaires Louis Bacon and Jeffrey Vinik were among veterans who rocked the more than $3 trillion industry last year by handing back capital to clients.
The shuttering of hedge funds is part of a massive shift from actively managed investments to passive strategies, which could account for the drop, according to Greenwich Associates. Passive equity fund assets topped those of active stock funds for the first time in August last year.
The growth of exchange-traded funds has been particularly important. Now overseeing more than $4.5 trillion in the U.S. alone, these cross-asset vehicles have broken down silos within banks and electronic brokers, requiring them to increasingly centralize their evaluation of risk.
So, rather than individually hedging each and every position -- with S&P futures or other instruments -- many traders now net risk across their entire book and then optimize their hedges. A long position in Apple Inc. and Microsoft Corp. could be offset against short exposure to the Invesco QQQ Trust Series 1 ETF, for example, as the fund that tracks the Nasdaq 100 Index has more than 20% of its assets in those two tech companies.
"Active management and hedge funds are a much smaller proportion of the total market cap than they were 10 years ago," said Ken Monahan, a senior analyst covering market structure and technology at Greenwich. "You're probably looking at the death of hedge fund AUM."