When You're on a Diet, This Supermarket Will Make Sure You Don't Snack
(Bloomberg) -- The 21st-century reboot of the helpful corner-shop owner is an algorithm supercharged with consumer data that knows what you want before you know it yourself.
At U.K. supermarket J Sainsbury Plc, that means an online shopper in the habit of buying cat food won't see any products for dogs under pet supplies; somebody on a diet will be kept clear of tantalizing snacks; and anyone with food allergies will be warned about each item that contains the reaction-inducing ingredient.
"We know you. You trust us. It can be that two-way," said Clodagh Moriarty, Sainsbury's chief digital officer. "The more we learn about you, the better we can be."
Grocery loyalty programs may have been around for years, but with the help of sophisticated data analytics, they are becoming much more than another piece of plastic to swipe at checkout. For retailers, they're a direct line into the minds of customers, and store owners are deploying their data dragnets to personalize the shopping experience, drawing on a growing trove of input as more consumers shift online to buy anything from beer to light bulbs.
The urge to get into consumers' heads is particularly acute in the U.K., where more than 7 percent of grocery sales happen online, compared with only about 1 percent in the U.S. The contrast is even starker with Germany, Europe's largest economy, where just 0.75 percent of people buy their groceries online. That's turned the U.K. into a veritable petri dish for retailers seeking to cultivate ever more sophisticated online shopping experiences to keep web giants like Amazon.com Inc. at bay.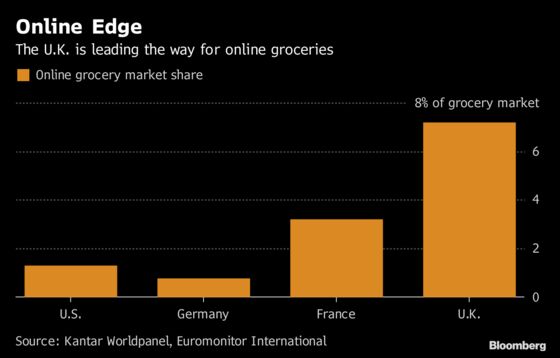 One of the leaders in amplifying online grocery sales is Ocado Group Plc. The Hatfield, England-based online retailer operates warehouses with armies of robots that fill customers' orders. While it maintains just over 1 percent of the U.K. grocery market, Ocado's bigger business is to sell its high-tech model to other stores. It has contracts with grocers across Europe and signed a deal with Kroger Co. this year to build 20 fulfillment centers in the U.S.
Behind the robots, Ocado uses machine learning to get to know its customers well enough that it can pre-fill a cart with all the items they will likely buy. In addition to delivering the groceries, Ocado will provide reams of customer data to companies on its platform. Clients will be able to see not just what its customers buy, but also what they clicked on and didn't buy, what order the items went into the basket and how long it took to shop.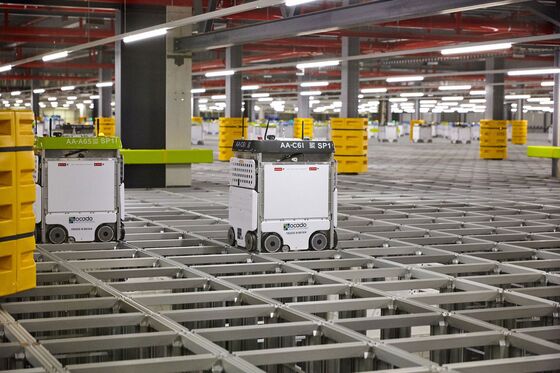 Consumers spooked by what they might consider corporate overreach can request a copy of all the personal data a retailer has about them and then give or sell it to another business. Businesses must provide the personal data to customers in the EU, but global customers may also request it.
"There are so many ways supermarkets are collecting data that it's bewildering to the average person," Saunders said.
For Jane Jux, 52, of Bray, England, volunteering her personal data is a fair trade. She's been shopping at Ocado for years and said the grocer helps her keep up with purchasing.
"Sometimes they prompt me to add something to my basket that I hadn't appreciated I was running low on," Jux said. "If they didn't 'know' me they couldn't do that."
Ocado Chief Technology Officer Paul Clarke likens the personal touches to the neighborhood store owner who knew his parents personally and what they typically bought. "Instead of the local grocer who has that intelligence and knowledge, it's algorithms and machine learning," Clarke said.
The personalized experience can help boost profits by allowing retailers to improve marketing, manage inventory and better design their own-label products. Without those capabilities, companies will fall behind as Amazon grows its online business and reaches more customers at bricks-and-mortar stores like Whole Foods and Amazon Books.
"Brands need to start getting to know their customers in a way they haven't before," said Zoe Leavitt, a retail analyst at CB Insights based in New York. "If grocery stores don't have a solid connection to the customer, if they don't have their own private-label products, they're only selling products that can also be bought on Amazon."

At Sainsbury, the retailer draws customer data from a growing number of sources. The company is in the midst of an acquisition of Walmart's Asda that could make it the U.K.'s biggest supermarket. On top of that, Sainsbury acquired the loyalty rewards company Nectar earlier this year, which gives users points based on purchases from over 500 brands.
As companies learn more ways to gather customer data, they're starting to deliver personal experience in the store as well. Grocers such as Tesco Plc are experimenting with an app feature that allows customers to scan items and check out without having to visit a cashier. Those apps could soon use geo-location to detect if a customer is in a store and then offer promotions specifically tailored to that person's buying habits.
Despite all the online buzz, in-store sales remain a key advantage for traditional retailers over their digital competitors. While e-commerce grows rapidly every year, most sales are still made in person. The ability to capture that data and merge it with an online customer profile could be a significant asset.
"Through the loyalty data you know each individual customer," said Dave Clements, global retail director at data analytics firm Dunhumby, which has worked with companies including Tesco and Nestle. "Depending on where you are, what location you're in, the ability to engage customers through mobile and digital channels is a real change."