When United Pawned Old Jets, Bond Traders Sent a Stark Warning
(Bloomberg) -- Late on Friday, after some 48 hours of frantic attempts to lure investors to their faltering bond sale, executives at United Airlines let it be known that the deal was dead.
It was an odd moment, stuck smack in the middle of one of the busiest corporate bond booms ever, a period in which investors have shown themselves to be receptive to almost any debt offer backed by good collateral. But this last part was where United got in trouble. For collateral, it had scraped together 360 old jets, some of which analysts considered would be nearly worthless in a few years.
In balking at the deal, investors sent a clear message to CFOs across the country: Don't try to pawn second-tier assets. Bring us the crown jewels because, regardless of how much Washington policymakers are helping corporate America weather the economic shutdown, the risk of default remains high for all but the most financially solid companies.
"All collateral is not created equal," said John McClain, a money manager at Diamond Hill Capital Management.
United Airlines' attempt to raise $2.25 billion of bonds follows efforts by other virus-stricken companies to mortgage anything they can get their hands on to persuade debt investors to lend them money. In a bid to replace revenue wiped out by the virus pandemic, they've pledged private islands in the Caribbean and the Bahamas, cruise ships, movie theaters and even spare engines.
Collateral has been an important safeguard for investors, who have bought billions of dollars of debt from struggling companies in recent weeks. They can seize it if a borrower falters and can't pay them back in cash. But the United deal shows investors have their limits in who they'll lend to.
"The collateral issues were too difficult to overcome," Roger King, an analyst at debt research firm CreditSights, said of the United deal. Borrowers "keep throwing stuff overboard, hoping they can reach the port before there's nothing left," he said, likening it to the book "Around the World in 80 Days."
Companies have been furiously tapping the bond market to shore up liquidity, following unprecedented action by the Federal Reserve last month pledging to buy certain debt. The companies are in dire enough shape that the secured-debt deals are essentially "quasi-rescue trades," said Ben Burton, head of U.S. leveraged finance syndicate at Barclays Plc.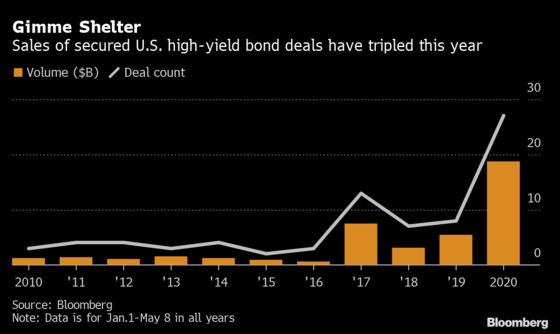 There's nothing unusual about struggling borrowers posting swathes of assets against their borrowings. Ford Motor Co. had to mortgage virtually everything it had in 2006 to avoid bankruptcy, arranging some $23.4 billion of debt by putting up all major assets including its blue oval logo. It's also not unusual for borrowers and lenders to joust over the value of the collateral and whether it's even accessible to claim.
But in the current depressed environment, even seemingly highly prized collateral is leaving some investors cold. Demand for United Airline's bonds, for which unofficial price discussions rose to a yield of about 11%, had been weak over the concerns that its collateral wasn't valuable enough to compensate for the risks.
The aircraft had an average life of 19 years, making them less efficient and more of a liability, according to CreditSights' King. They're also about five years from retirement, meaning they could be out of operation and "worth little more than the engines" before a portion of debt matures. That could render investors undersecured, he said.
Vince Pisano, a senior analyst at Xtract Research, said the $4.3 billion appraised value of the aircraft also raised a few eyebrows for him.
If the company went under, he said, "who is going to want to or be able to pay that amount? Think a private equity firm is going to want to start a new airline and pay those prices?"
Before pulling the deal on Friday, United had sweetened terms in a bid to attract investors. It also added a clause that would trigger repayment of the bonds at a substantial premium to par, known as a make-whole, should the company file for bankruptcy. And while the pulled deal dims the company's funding prospects, it still has a $2 billion one-year loan giving it some breathing room. It had about $9.6 billion of liquidity as of April 29.
Companies in the entertainment business are also putting up their core holdings to induce investors. Theme park company Six Flags Entertainment Corp. sold $725 million of secured bonds in April, pledging its theme parks and water parks.
AMC Entertainment Holdings Inc. sold $500 million of bonds last month and backed them with collateral including movie theaters, according to a person familiar with the matter. That bond has since sunk to about 80 cents on the dollar, according to Trace pricing. AMC's prospects have looked bleak, forced like its rivals to close cinemas and furlough workers. For weeks, the company faced pronouncements from analysts and trade publications that it's on the brink of bankruptcy.
Norwegian Cruise Line Holdings Ltd. put up its Great Stirrup Cay island in The Bahamas and Harvest Caye island off the coast of Belize to help sell $675 million of debt, according to a person familiar with the matter. The real estate was appraised with a market value of $260 million, though Norwegian said the investment value should be nearly three times that, based on the destinations' importance for its cruise operations and future cash-flow.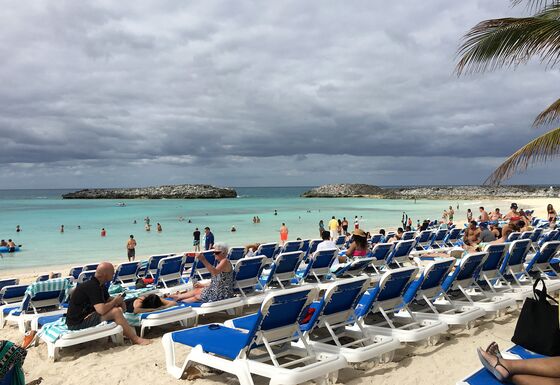 Even with a hefty 12.575% yield, investors were taking a risk. Norwegian Cruise had indicated it may not survive the disruption and, like rival operators, has suspended operations through June 30. Many analysts fear the cruise industry will take longer to recover, if at all, tarred by virus outbreaks on ships at sea. Norwegian is offering a three-day Bahamas round-trip cruise from Miami from $149.
Norwegian said the bond sale and other transactions alleviate worries about its ability to continue as a going concern for the next 12 months.
Last month, another cruise operator, Carnival Corp., sold $4 billion in bonds backed by 86 of its cruise ships and intellectual property valued at almost $29 billion, according to documents seen by Bloomberg News. It was unclear if any of the ships that had outbreaks of the virus were included in the 86 vessels.
Delta Air Lines Inc. raised $5 billion of bonds and loans backed by slots at some of the world's busiest airports, as well as flight routes in Europe and Latin America. While they are valuable to airline business and don't depreciate over time, King argues that there are questions over their true ownership, meaning investors might not be able to benefit from this collateral come crunch-time.
While these assets can provide liquidity for companies, "investors must be discerning and understand their ability to take possession and resell in the event of default," said Diamond Hill's McClain.
Now that companies have put a lot of their assets up as collateral, many of them may face big hurdles if they go back for another round of financing.
"The degree to which companies will be able to hold back on unencumbered assets for double dips later depends on how stressed of a situation it is," Barclays's Burton said. "If they have to come back, some will be able to, but others will have to find other sources of capital if they need more money."