When Pro-Ballers Want an Amazing Suit, They Call Jang
(Bloomberg) -- When rising NBA star Donovan Mitchell needed a suit for the 2018 ESPY Awards at the Microsoft Theater in Los Angeles, he went to a dapper gentleman named Andrew Jang. The result was a jacket covered in a white spiderweb pattern, including an arachnid on his upper back where all the lines converged.
Mitchell's nickname, you see, has been "Spida" since he was a kid.
The one-of-a-kind outfit was from a label called Adriaen Black, which has quietly become the go-to for athletes looking for something flashy at the next awards show, celebrity benefit or fan event. You, as a regular human, can't have one. Unless you're draining three-pointers for the Golden State Warriors or catching passes downfield for the New England Patriots, Adriaen Black won't sell you a suit.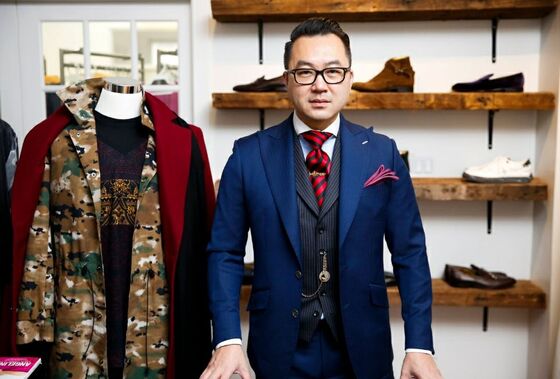 Jang's custom suits, which typically cost between $1,500 and $4,000, can be found draped over the taut frames of athletes everywhere. The man himself spends a lot of time flying from city to city to meet players, getting them fitted for items as varied as a pink blazer with wide peak lapels or a kaleidoscopic black-and-red tuxedo. If you've ever watched a big sports-related event, whether an All-Star game, award show or draft, you've probably seen an Adriaen Black suit. Jang's label has worked with about 800 athletes and 40 teams.
Fashion, of course, has become essential to pro sports as athletes care more about how they telegraph their personalities. Mixed martial arts fighter Conor McGregor flaunts designer looks while hyping his fights in the UFC's octagon, showing off Louis Vuitton print shirts and Gucci coats. Wide receivers Odell Beckham Jr. and Victor Cruz often draw eyeballs with their unique looks. Sports Illustrated even gives out annual awards to the most stylish athletes.
Yet nowhere in the wide world of sports has style been as deeply ingrained as the National Basketball Association. The bowels of arenas, where the players walk from their vehicles to the locker room, have become something of a concrete catwalk. Russell Westbrook, arguably the pinnacle of fashion consciousness for the NBA, has been followed by dozens of other players eager to portray themselves as fast-break fashionistas. Westbrook has done collections for Barneys New York and even served as the retailer's guest fashion director. Dwayne Wade has a line of accessories with The Tie Bar. Kevin Love is the face of Banana Republic's menswear.
Donovan Mitchell is 6-foot-3, 215 pounds, and was one of the best rookies in pro basketball last year. While his proportions are nothing like a regular guy, there are other players for whom made-to-order clothing is even more imperative. All-stars Demarcus Cousins and Joel Embiid get their suits from Jang, too. Cousins, at 6-foot-11, 270 pounds, and Embiid, who comes in at a slightly leaner 7-feet, 250 pounds, would be hard-pressed to find something in a big-and-tall store. They can't waltz into a normal fashion boutique intended for tiny mortals, pluck a blazer off the rack and put it on without ripping it to shreds.
When Mitchell was playing college hoops at Louisville, he never wore a suit and didn't care about fashion. Whenever he tried on something off the rack, the sleeves ended up being too short. All that changed when he got to the NBA.
"I didn't have the money to care about fashion," said Mitchell of his college days. "I was always like, 'who needs it?' But when I was able to get involved in fashion, it became a way to express yourself." To help Mitchell express himself, he and hundreds of other athletes like him go to Jang.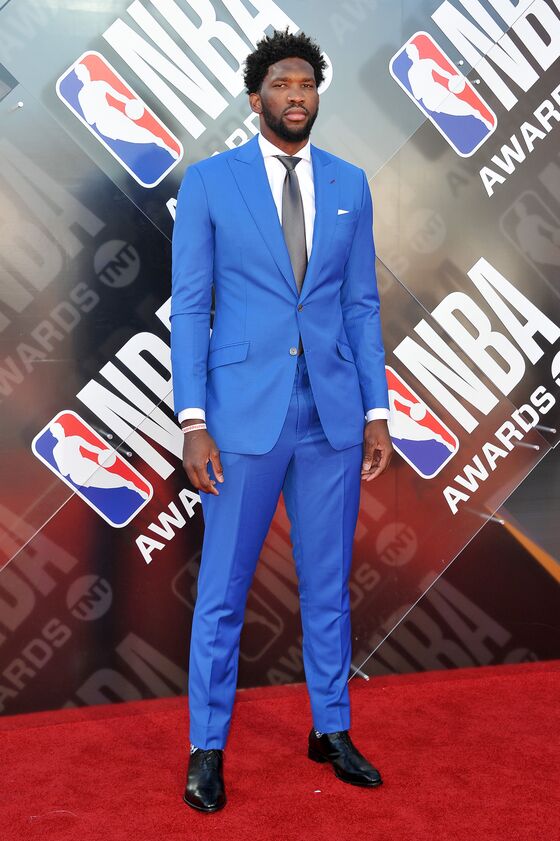 On a hot summer day in New York, Jang is buttoned-up in a blue three-piece suit, sipping coffee as he strides into his office in the Garment District, a onetime global manufacturing hub that still serves a few designers and industry workers. Most production has moved abroad, but Jang's needlework is done right next door.
The name Adriaen Black, it turns out, doesn't have any particular significance. Jang remembered a spy character in a book from his childhood named Adrian, so he spelled it a little differently. The color black is cool, he thought, and that was it. Prior to his athlete dressing days, he called himself "Vogue Individual."
"Really dumb name when you think about it," he said.
Jang is unlike more traditional tailors in that he'll fit athletes pretty much anywhere. Most of his brethren are locked into a region, but most athletes are not—they're traveling all the time. He's met up with Kansas City Chiefs safety Eric Berry right before the Super Bowl and Sacramento Kings guard Iman Shumpert at a restaurant in San Diego. Lots of fittings happen at airport bathrooms. He'll have clients come into his New York office or make the trip to their homes. He measures entire teams in arena locker rooms, and brings along his whole staff to help.
For someone who works with athletes daily, Jang knows surprisingly little about sports. "I can't tell you players' names or faces. There's a team I walked into that all wore name-tags. One, to kind of make fun of me, but two, because they knew I had no idea who the hell they were," said Jang.
Still, Jang has something in common with many of his clients: He didn't get into fashion until a few years ago. Born in Korea, he was orphaned at the age of 1 and later adopted by a family in Iowa. He considered himself a "backroads-kid" with no inclination toward fashion. In his younger years, the closest he got to caring about clothing was ironing his pants for church or sewing a worn-out shirt. He'd wear khakis and a button-down when he went to Wayne State University in Michigan—for dentistry. That didn't work out. He worked for awhile at Chili's serving chicken sandwiches and Tuscan egg rolls.
His big break in fashion was dumb luck. Jang said he liked to go to nice parties, but back then couldn't afford to buy the right clothes, so he'd hunt through secondhand stores to find blazers and try to tailor them himself. "My first five or six blazers, everything was horrible," he said. He found a velour jacket for about $20, took the whole thing apart and tried to make it his. He made a mistake, and had to use duct-tape to finish the job. Nevertheless, it worked: At the party, someone said Jang was the best-dressed person she'd ever seen and wanted to hire him as a stylist. 
"They never realized if they flipped that jacket it was literally held together with wire and reusable thread," said Jang. "I didn't know what I was doing."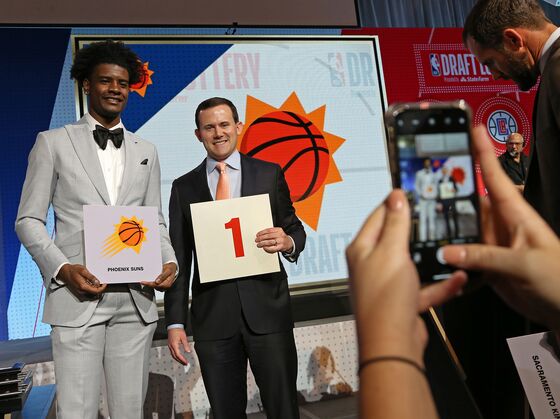 He does now. Being a tailor for athletes only came into focus when a sports agent contacted Jang out of nowhere. The agent represented three NBA players he had worked with before (he had no idea who they were) and asked if Jang wanted to dress more of his clients. He said no way. "Sports aren't my thing," said Jang, saying players had a reputation for being terrible to work with. He doesn't think that any more.
After Jang dressed Skal Labissiere (the 6' 11" big-man out of the University of Kentucky) in a bright magenta blazer with grey slacks for the 2016 NBA Draft, he earned shout-outs from ESPN. That's also the day he officially started his company. Word spread and he ended up working with 11 NBA teams that year, including Demarcus Cousins and the Kings, who went to their stadium's opening event clad in Adriaen Black tuxedos. After that came the Memphis Grizzlies, the New York Knicks and the Brooklyn Nets. His client list grew and grew.
Fast forward two years. Adriaen Black has worked with more than half of all NBA and NFL teams combined. This year, he'll be working with his first five Major League Baseball teams. His business made about $10 million last year and is profitable, said Jang.
Once he got big, the pressure to sell clothes to everyday rich people became more intense, Jang said. "We get people that can afford anything they want, and they knock on my door pretty consistently and say 'I'll pay you three times what the athletes do,'" Jang said. "I'm like, sorry, you're not an athlete. I'm not going to make you my custom clothes."
His brand only has a few paid endorsers now, including Boston Red Sox star outfielder Mookie Betts, but Jang hopes to expand its roster to about 75 athletes within the next few years.
Earlier this year, he started to court non-athletes with a ready-to-wear line. These items are "athlete-inspired," said Jang. They include a $2,000 lambskin suede jacket and $800 zip-up sweaters. There's also a collection of shirts and hoodies with caricatures of various sports players."That's where you become a real clothing brand, at least in my eyes," he said.
He also wants to make sure he diversifies before it's too late.
"The new, cooler kid with zero experience would come along, as I did, and everyone will want to work with him," he said.