When Meituan Stops Chasing Didi It Might Be Profitable
(Bloomberg Opinion) -- Earlier this month, Meituan Dianping Chairman and CEO Wang Xing pledged to curb spending on his ride-hailing business.
Heading into a Hong Kong IPO, Wang probably had a clear idea of what the rest of us can now see for ourselves: Competing with Didi Chuxing was no less than a money-burning proposition.
In its first earnings announcement since the Sept. 20 listing, the Chinese operator of food-delivery, ride-hailing and bike-rental businesses reported a blowout in its net loss for the first half. As Lulu Chen of Bloomberg News  notes, a change in the value of convertible preferred shares exacerbated the pain at the non-operating level.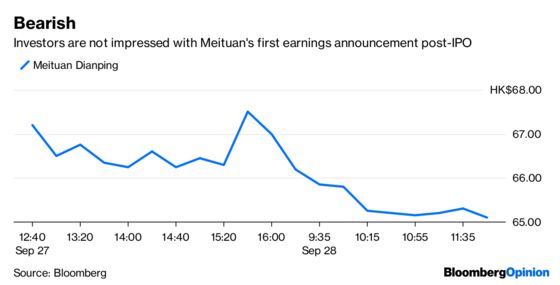 But even Meituan's operating loss deteriorated rapidly during the first six months. Thanks to its IPO prospectus, which gave a comprehensive earnings breakdown for the January-April period, we can get even more granular for the months of May and June by backing out the two sets of numbers.
My calculations show a somber picture.
The first thing to point out is that a quirk in accounting practice means fair value changes on investments are lumped in with operating profit. In the May-June period, the reported operating-loss margin widened from 8.5 percent in 2017 to 13.1 percent this year. But by removing both fair-value changes and other items – which boosted earnings – I reckon the operating loss from, well, operations widened even more than reported.
After accounting for the cost of sales, as well as marketing, R&D and administration expenses, Meituan lost 23.3 cents for every dollar (actually, yuan) in revenue. That's almost three times the 8.1 percent operating-loss margin it experienced in the May-June period a year earlier, and also wider than the 18.7 percent negative margin it posted for the January-April period of this year. Its purchase of the bike rental company Mobike in April also weighed on the bottom line.
Meituan divides revenue into three categories: Food delivery; in-store, hotel and travel; and new initiatives and others. What's most revealing is that costs for new initiatives, including car hailing, climbed from around 3 percent of total expenses a year ago to an oversized 36 percent in May and June of this year. To be sure, revenue from that division also rose – from 4.8 percent of the total to 17 percent – yet the escalating cost dragged the gross loss margin for that category to a massive 72 percent.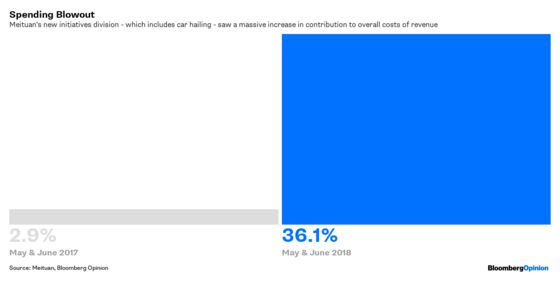 Put simply, as recently as May and June, costs in the unprofitable car-hailing business were climbing rapidly.
Representatives of Meituan's PR agency declined to say how much of that cost surge was directly attributable to car-hailing, but they did highlight a line in the first-half statement showing a 77-times increase in costs for car-hailing drivers. 
When Wang Xing pledged a few weeks ago to rein in this venture, he was echoing a comment made in Meituan's prospectus: "Based on current market dynamics, we do not expect to further expand this service."
It will take more than just an exit from car hailing to make Meituan profitable (it still faces those pesky non-operating items). But with Wang himself saying that the food-delivery business is close to breakeven, it's quite possible that an end to the car chase could be an express ticket to profitability. Assuming the company can work out what to do with Mobike.
This column does not necessarily reflect the opinion of the editorial board or Bloomberg LP and its owners.
Tim Culpan is a Bloomberg Opinion columnist covering technology. He previously covered technology for Bloomberg News.