What Italian Banks Have Learned From 2011 Blow-Up in Four Charts
(Bloomberg) -- What's changed between Italy's sovereign debt crisis in 2011 and 2012 and now? The country's banks are a lot better equipped to defend themselves, though still a long way from bullet-proof.
Italian lenders, major holders of the country's debt, have seen their stocks pounded this week as markets try to price in the risk that new elections could bolster anti-European parties and usher in a government that takes Italy out of the euro area. Here are four charts showing how the heath of Italian banks has improved.
In November 2011, yields on Italian bonds breached 7 percent, putting acute pressure on some of the weakest lenders in the euro area. Regulators have since pushed them to raise fresh funds to boost capital, and the banks have sold assets and offloaded billions of euros in soured loans.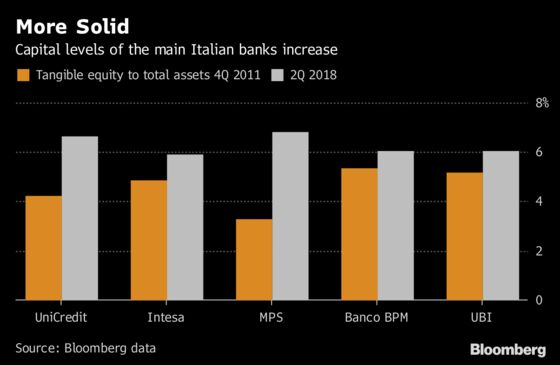 Measures introduced by the outgoing government, including a bad-loan guarantee and rules to make recovery easier, helped Italian banks cut their pile of non-performing debt by about a quarter since 2015 to 270 billion euros ($315 billion). The NPL ratio has decreased to 10.1 percent of total loans from a record 16.6 percent over that time. Still, the average level of troubled assets held by Italian banks is more than twice as high as the closest euro-area peer.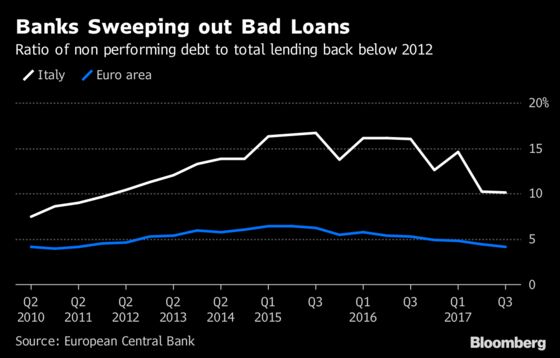 Italy's banks have struggled along with their European peers to bring their costs into line with revenue that have been depressed by ultra-low interest rates. While widespread branch closures and job cuts have caused spending to fall sharply in the last couple of years, cost-to-income ratios have barely improved since the start of the decade.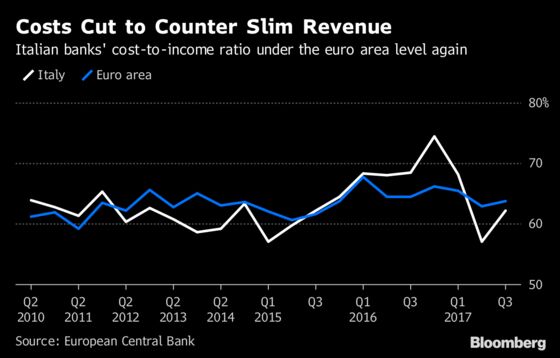 Sovereign debt is one area that could still spell trouble. The ECB's injection of long-term funds starting in 2011 failed to boost lending because banks invested primarily in sovereign bonds instead. Italian banks have started to cut their holdings of the country's debt only in the last two years and the proportion of government bonds to total assets is three times higher than the average of euro area banks.